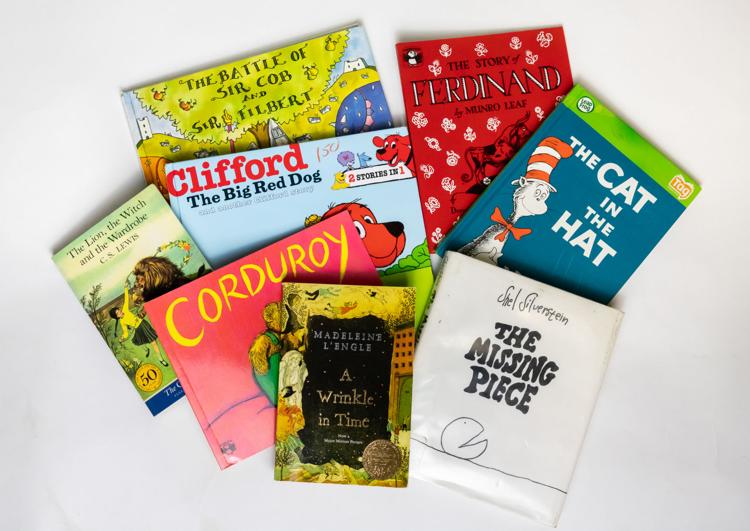 Nursing junior Kaitlyn Apticar can remember what it's like to lie with her mom after school, reading Junie B. Jones and falling asleep before long.
Now Apticar works at the George W. Hawkes Downtown Arlington Public Library as a customer service associate, and whenever she works shifts in the children's area, she sees kids get excited to read the way she did when she was younger.
Apticar said the Junie B. Jones books were her favorite and her go-to for getting her required reading time in.
The Junie B. Jones series follows a young girl's life as she starts school and is told from her perspective rather than an adult's perspective, which appealed to her when she was young.
"I loved that she was really rambunctious, but there was always, like, a reason for the story," she said. "It was always really relatable."
Children can be affected by the media they take in, and books are no exception. Giving a child a book as a gift for the holidays is an opportunity to share the stories that molded you into the person you are today, said biology senior Lauren Escamilla Stantoni.
Escamilla Stantoni said that her favorite books growing up were ones by Shel Silverstein, specifically Where the Sidewalk Ends.
Where the Sidewalk Ends is one of many poetry books by Shel Silverstein and is known for being accompanied by its distinctive illustrations.
Although Escamilla Stantoni doesn't remember much of the book, it left an impression on her because it was so unique to other kids' books she had read.
Her memories of Where the Sidewalk Ends shaped her into the person she is today, she said, which is why it's the first book she chose as a gift for a new baby in her family.
Escamilla Stantoni's sister-in-law just gave birth, and one of the themes of the baby shower was for everyone to bring a book that meant something special to them as a present.
"She thinks it's important to read to your children and let them read as they grow," Escamilla Stantoni said. "She just thought that would be something special, and everybody got to pick something that was meaningful to them and something she and the baby would appreciate."
Architectural engineering freshman Nicole Nash said she has many good memories of reading with her dad, even though she didn't enjoy reading by herself.
Nash said she would always rather be outside being active, something that still holds up with her today. However, spending her time reading was better for her in the long run, she said.
Her favorite book to read with her dad and her sister was The Giving Tree by Shel Silverstein, Nash said, and she remembers it because it was a book she actually got excited to read.
"That's the earliest book I could remember that I actually enjoyed reading," Nash said. "It helped me realize that reading can actually be fun."
Getting children involved in reading is something Apticar endorses as well, both as a library employee and someone that spent a lot of time in the library when she was young.
"They get so excited about being at the library because they love to check out the books," she said. "They'll come up to their moms with piles of books, and they're just always a little bit more engaged, a little bit more mature."
Apticar doesn't think that kids who don't read aren't as smart as the ones that do, but she said that she can tell the difference in the kids who come into the library to use the video games and the ones that are just excited to read.
"Believe it or not, their social skills are better, even though you think that it'd be kind of the opposite if they have their nose in a book all the time," she said. "They kind of experience things through other people's eyes without having to be there or having to experience it themselves."
The practice of gifting meaningful books to children is also how physics sophomore Gabriel Cantanelli received one of his favorite books as a kid, a book he says is a classic to him and is very popular in India, where his grandparents are from.
"They wanted me to have the book as a piece of their home country," he said. "Since I was born and raised in America my whole life, I think that's why."
The book was about a crow who lives its life in a cage, Cantanelli said, and although he still liked the book for what it was when he was younger, he's begun to see the deeper themes within the book as he's grown up.
"Freedom and making your own choices for yourself is a big thing that I live by, so I think about that book a lot," he said. "Even though I haven't read it in a while physically, I still keep the ideas that it taught me pretty close."
@Sam_Knowles00