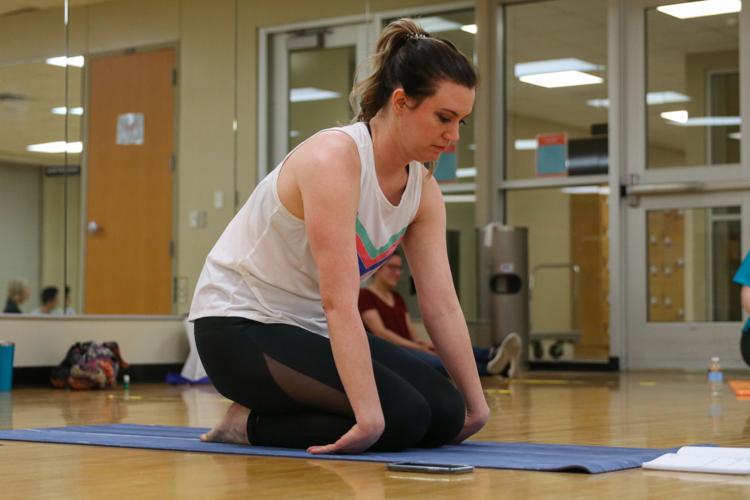 Through every release of breath, practitioners of yoga loosen their bodies and let go of stressors both physical and mental. With some adjustments, this methodology can help survivors of trauma find healing and empowerment.
The Crime Victim Services unit hosted a trauma-informed yoga class Thursday as a part of Crime Victims' Rights Week.
"We want survivors of traumatic experiences to know that they're not alone. They have a community; there are other people that they can share with," said Jennifer Sterling, Crime Victim Services coordinator.
When helping victims of crime or survivors of trauma, the Crime Victims Services unit can connect them with counseling or other services, such as yoga, that allow victims to get in touch with themselves.
According to the Center for Trauma and Embodiment, trauma-informed yoga uses similar methodologies as typical yoga but considers the needs and experiences of trauma survivors to cultivate positive relationships with one's body.
Through breathing and physical movements, yoga can help calm the parts of the nervous system that cause anxiety, something trauma survivors might be feeling, yoga instructor Natalie Stalmach said.
For Ashley Stalmach, social work graduate student, yoga provides a safe and quiet environment that serves as a form of self-care, she said.
In a typical yoga class, instructors will physically adjust the postures of participants.
A key difference of trauma-informed yoga is the lack of hands-on adjustments. This gives trauma survivors their space and avoids triggering uncomfortable memories or feelings, Natalie Stalmach said.
Before the class, Natalie Stalmach and Sterling reminded attendees that they can step out at any moment during the class if needed.
Trauma may cause survivors to feel detached mentally and physically, summoning feelings of disassociation from the body, Natalie Stalmach said. Using a series of breathing techniques, trauma victims can reattach themselves.
@edmedeles