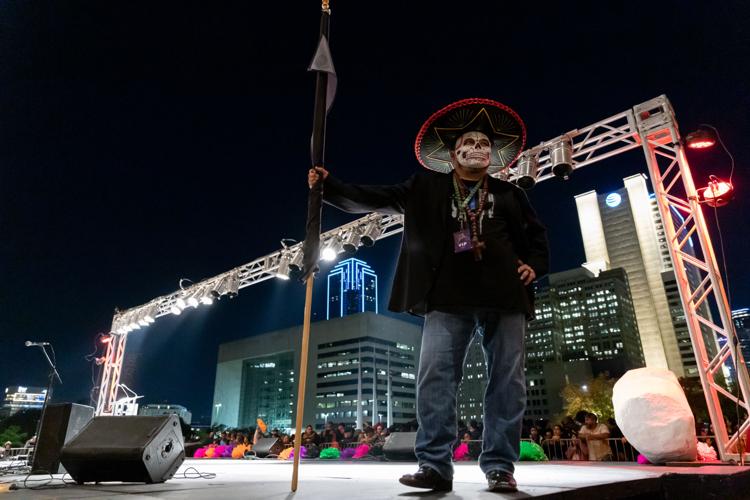 DALLAS  — In a whirl of color, culture, Catrinas and calaveras, Dallas hosted its first Día de los Muertos Parade and Festival Saturday. 
Día de los Muertos, also known as the Day of the Dead, is celebrated from Oct. 31 to Nov. 2 as a way to honor deceased family members. Mauricio Navarro, parade and festival founder and managing partner, said it was about time Dallas hosted a large-scale event to commemorate the Mexican holiday.
Recent movies like The Book of Life (2014) and Coco (2017) helped kickstart a newfound fascination for the holiday in the United States, he said. His goal with the parade and festival was to harness the energy behind the Dia de los Muertos "phenomenon."
"It's kind of like controlling an atomic bomb," he said. "And what we're trying to do is control it by preserving it and trying to do it in a respectful manner that it doesn't become a future, commercialized, 'nother Cinco de Mayo."
Photos: Dallas' inaugural Día de los Muertos Parade and Festival features catrinas, live music
Thousands of people attended the inaugural Día de los Muertos Parade and Festival on Oct. 26 in Dallas. People lined the streets of downtown Dallas to view various floats and performances as the parade marched by. The event featured a costume contest, live music and various food vendors.
As a Mexican immigrant, Navarro said it's essential to preserve Mexican culture and traditions. 
The parade and festival featured Mexican folk dancers, mariachi bands and a Catrina contest, a competition of attendees dressed as Catrinas and Catrins (skeletons). Thousands of people attended the event and dressed in colorful, sparkling costumes with elaborate makeup to look like calaveras (skulls).  
Downtown Dallas echoed and shook with excited whooping and singing along to songs from Luis Fonsi, Daddy Yankee, Selena Quintanilla and other Hispanic artists.
As the sun set, the festivities grew progressively louder. 
Duncanville resident Shannon Jordan, who won the Catrina contest, said she has participated in Día de los Muertos events for several years. Her outfit, hand made with custom parts from overseas, took her a month to create, and she spent about four hours applying her full-body makeup.
She celebrates the holiday to remember her grandmother, who taught her to embrace her culture and pride herself as a Mexican American. 
Sometimes, it's hard to mesh with both cultures, to embrace American culture and remain true to your Mexican roots, Jordan said. She was never "Mexican enough" for her Mexican friends, and her Caucasian friends said she pronounced her words a "little funny."
She said she's glad Dallas finally hosted an event that allows Hispanics and non-Hispanics alike to learn about the Mexican culture.
Dallas resident Jenna Sosa said she's used to seeing Día de los Muertos festivities in San Antonio and Corpus Christi. When she moved to Dallas, she said she was surprised that such a large city hasn't held an event for the holiday before.  
She said Día de los Muertos is about honoring the dead and celebrating the future. Her father died at work in a crane accident when she was a child, and her close friend died of glioblastoma, a form of brain cancer, just about a month ago.  
As a child, she never celebrated Día de los Muertos, but her aunt recently taught her the religious aspects behind the holiday. 
"As you get older, you think of death and mortality," she said.
Losing her friends and family made her realize how fleeting life is, so she uses the holiday to honor the people she has loved. 
Lizbeth Melendez, UTA public relations alumna, said Día de los Muertos is a way to connect different generations through a common bond: the love they share for their deceased friends and family.
"The culture is changing," she said. "The whole city is seeing a different perspective to our culture. We hope that maybe this can invite other cultures as well so they can learn about what Día de los Muertos really means."  
@CecilLenzen