When it arrived in the mail, the red-and-black flannel shirt defied journalism junior Camille Hall's expectations; it just wasn't exactly in the way she'd hoped.
"It literally had a hole in it when we got it," Hall said. "It was on the arm, and then it just got bigger."
Hall's mom had ordered the shirt for her online from a store similar to an Etsy shop, she said. Etsy is a website that hosts millions of virtual shops, where people can list items — many times handmade — to sell through the site.
Her mom spent around $15 to $20 on the shirt, she said, and the experience was enough to instill a distrust of online vendors in Hall.
Hall said she won't buy things online unless it's from Amazon because she doesn't trust the products from other sites to come in looking exactly like their pictures.
"It really just depends on what you buy, but I would never buy clothes online again," she said.
Marketing lecturer Michael Buckman said if the items found on Etsy are handmade, sometimes the quality may be very strong, but other times the purchaser runs the risk of a quality issue, which could deter sales.
However, there are still advantages to running online stores, Buckman said, even when consumers can't interact with what they're buying.
"Online sales can put you in front of a lot of people very, very quickly," he said.
Public relations junior Lauren Thomas knows this concept well and tries to incorporate it into her budding illustration business.
Thomas said she believes online is where millennials tend to connect and socialize, and it's important for customers to connect to her brand and want to be a part of it.
"I want people to actually care about the products that they're buying from me," she said.
Thomas said she wanted to study design when she graduated high school in 2014. However, things didn't exactly go as planned.
She said she started college studying interior design before realizing it was better to go broader and not limit herself in the design world. She took a year off from school, and during that time she found her passion.
Thomas said she was big into drawing as a kid, but her need for perfection when erasing and coloring frustrated her enough that she quit. But with the ability to draw digitally becoming more accessible in the last few years, Thomas found herself getting back into it.
"That kind of opened up a new world, to be able to perfect it online as opposed to on paper," she said.
Although Etsy is a popular host site for many who want to pursue online sales, Thomas said the site doesn't provide enough customization options for her.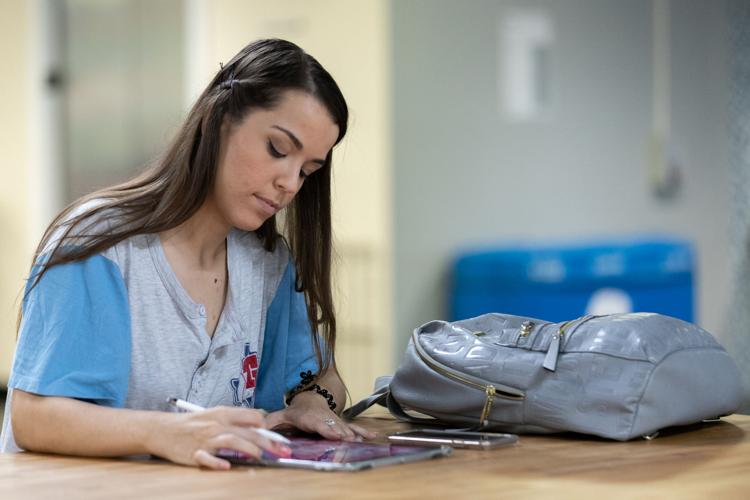 "Etsy isn't for me because you get less control as a creative," she said. "You get creativity while you're selling your art, but there's no creativity setting your Etsy apart from other stores website design-wise."
Thomas is currently in the process of creating her own website using a site called Shopify, which she said provides her with more options than Etsy.
"I don't want to launch it until I have a following," Thomas said. "I don't want to just launch products to no one, you know?"
Creating an illustration business is a sideline item on her list, she said, but she hopes that it's going to be a part of her career.
Etsy-shop owner Nicole Terral has also made a point of making online sales a part of her career.
Terral started her Etsy shop in 2016 and said that only 1% of all Etsy shops ever reach 1,000 sales.
Hers is one of them. Currently, she has accumulated over 4,400 sales.
Terral's shop generally sells an array of embroidered gifts, geared mostly toward weddings.
"My biggest seller is a handkerchief that is embroidered with the words, 'Keep your sh*t together.' That's my biggest seller, I sell hundreds of them alone," Terral said.
She said she also sells handkerchiefs with sweet phrases that someone would give to their mom and dad that make a nice little gift for a bridal party, of course.
Terral said the success of her shop was definitely a team effort. It's thanks to the help of her friends and fellow "friendors" — a combination of "friend" and "vendors" — Jen Bernardi and Courtney Morales that the shop really took off, she said.
Bernardi specializes in Search Engine Optimization, or SEO for short, Terral said. Terral met Bernardi online, when she paid $25 for Bernardi to revise five of her Etsy products to get them in front of more people.
"I thought I kind of lost my mind, you know, this is never going to work," Terral said. "I spent $25, and I was sure that I had just thrown the money away."
She was rapidly proven wrong. Before she had even finished putting in all of Bernardi's revisions, Terral started hearing the "cha-ching" sound on her phone informing her that she'd made a sale. She was making money.
Terral immediately hired Bernardi to optimize the rest of her shop, but Terral's recruitment didn't stop there.
In February 2018, Terral hired Morales to take product pictures for her shop.
With the combination of having the right SEO and great pictures, her shop really blew up, Terral said.
"I kind of cracked the code, if you will," she said.
Terral said there are millions of Etsy shops in the U.S., and of all those shops, hers is ranked around 13,000 nationally.
Despite their own success, Terral, Bernardi and Morales promote collaboration of Etsy users through their motto, "Compassion over Competition," which they use for their Etsy success workshops.
Prospective shop owners can also take their online version of the class from home with the friendors' "SEO Master Class," available for purchase on the Epically Embroidered Etsy shop.
Terral said that as long as a seller knows how to use SEO, reaching the extensive amounts of people buying online provides a great opportunity.
"There's millions of people looking at Etsy every day," Terral said. "It's unlimited potential."
@Sam_Knowles00