Visual art and language come together to convey a message at The Gallery at UTA's current exhibition, featuring artwork created by Robert Hodge and Alicia Eggert.
Hodge, a Houston-based artist, said he is inspired by African American history and his upbringing to express cultural awareness in his collages.
Referred to as a multidisciplinary artist, Hodge specializes in multiple media forms, from performance art and music to collages and paintings.
"In this generation, where we are, everybody is doing everything," he said.
Hodge said his work serves as a journal of his life.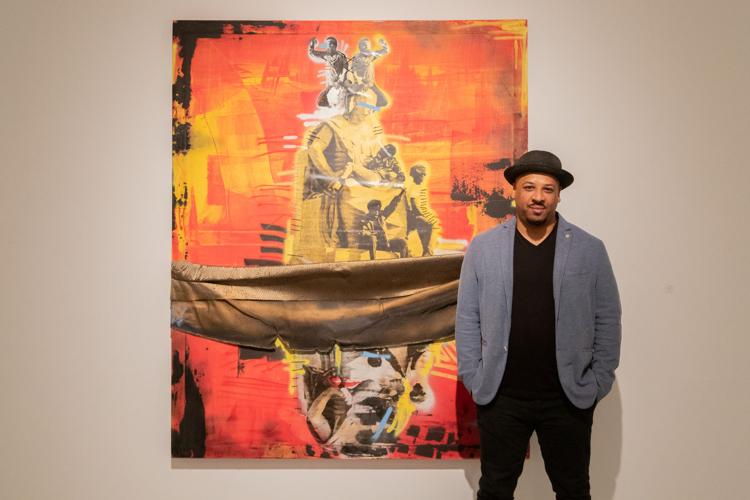 Attending public school in Houston as a man of color, Hodge said he had a limited education and used the experiences he gained as he grew older to teach himself to be an artist.
Similar to a griot, a West African storyteller, Hodge is making artwork that captures history, layered in self-awareness, he said.
Hodge encourages young artists and students to work hard to eliminate feelings of self-doubt to accomplish their goals.
"When you know where you come from and what you've done, it prepares your future," Hodge said.
Art has always been a passion for business sophomore Munilla Umulinga Rusangwa.
Rusangwa is a work-study student worker at The Gallery at UTA and frequents art museums in Fort Worth.
"It's really amazing, actually," she said as she stared at one of Hodge's pieces, constructed from the wreckage of Hurricane Katrina.
The message of Hodge's work, "Too legit to quit," reflects the infamous hurricane's tragedies.
For Rusangwa, the message was that people can pick themselves back up from adversity.
"It's never [too] late to quit," Rusangwa said. "You can always start over."
As for Eggert's work, Hodge said being paired with it at the gallery complements his art.
"There's so many great artists, I find a new artist every day," he said. "I saw her neon picture screen, and we're actually friends now."
When Rusangwa looks at Eggert's glowing neon purple sign, she sees how much she has learned and grown from her past. Rusangwa believes people should also take a second to cherish the present.
Eggert, a Denton-based artist, combines her background in interior design and architecture to inspire her artwork.
The content of her work is an investigation of time and language and the way it dictates and shapes people's lives, she said.
Eggert is an interdisciplinary artist as well who combines multiple activities such as sculpture, photography, video and art prints that change when you walk in front of them.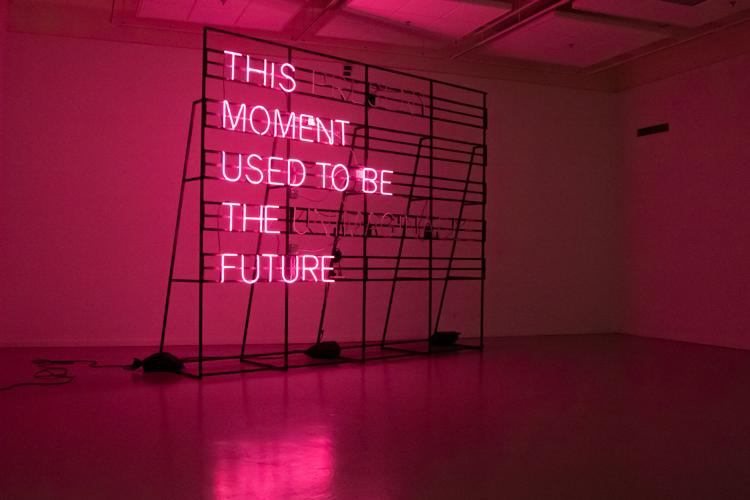 "The big neon sign that I have in there says, 'This present moment used to be the unimaginable future,' and then it changes to say 'This moment used to be the future,'" she said.
If people try to imagine what the future might be, they have the chance to influence future outcomes, she said.
Eggert's other artwork includes large scale conceptual art that involves collaboration with other artists, architects and interior designers to bring her vision to life.
The artists' messages are both equally important because people cannot read history without going back in time, Rusangwa said. Both artists convey that message.
Looking at other people's creativity can inspire, she said. Being creative helps her come into her own.
Art serves as a conduit for creating dialogue between an artists' idea and the viewer's perspective, said Benito Huerta, Gallery at UTA director.
Whether an avid art enthusiast or an average viewer, everybody has a visual vocabulary that they started from birth, Huerta said.
"When you're born, you don't know verbal language," he said. "But your eyes are looking from the very beginning."
@davy10306