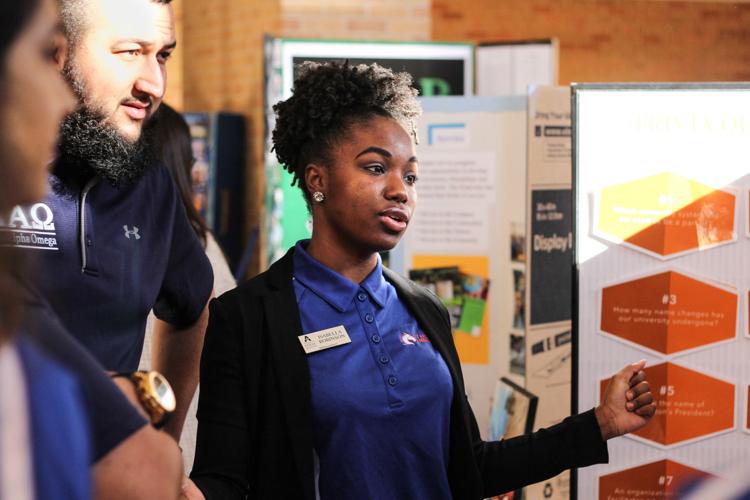 On the day of her dad's death, 16-year-old Isabella Robinson did not miss class. 
Her dad died of heart complications but left his daughter with a passion for helping others and an unyielding devotion to education.
"He would hate that I used [his death] as an excuse to not be in school," is what the current business management senior told her high school counselor at the time. She did not miss the next day either, Robinson said.
That devotion to education would follow Robinson well into her college years.
Sigma Gamma Rho Sorority Inc. president, College of Business senator, UTA Ambassador, Center for African American Studies emerging leader and NAACP officer are only a few of the titles Robinson currently holds.
The 22 year old plans on graduating in May with honors, a 4.0 GPA, an internship at Lockheed Martin and heavy involvement in over 15 student organizations under her belt.
Patricia O'Brien, Center for African American Studies student development coordinator, had her reservations about allowing such an involved student in what is already a time-consuming program when the two first met two years ago. However, Robinson's tenacity and desire to help stood out to her and left her with little choice, O'Brien said.
"She didn't care about the stipend," O'Brien said. "She really just wanted to be a mentor and to be of as much service to as much people as possible."
Her involvement on campus is fostered in part by her work ethic and passion for organization.
She recently launched a planning service business helping other students manage their time and workload by using a planner. Those close to Robinson have taken note of her organizational skills. She often flashes her heavily used planner wherein an array of color coded tasks and meetings is listed under each day.   
"It's the most organized thing I think I've ever seen in my life," UTA Ambassador Januari Baker said about Robinson's planner. "She has it down to a T." Baker and Robinson met in the Ambassador program one year ago and have been close friends since.  
O'Brien said Robinson plans every single day hour by hour.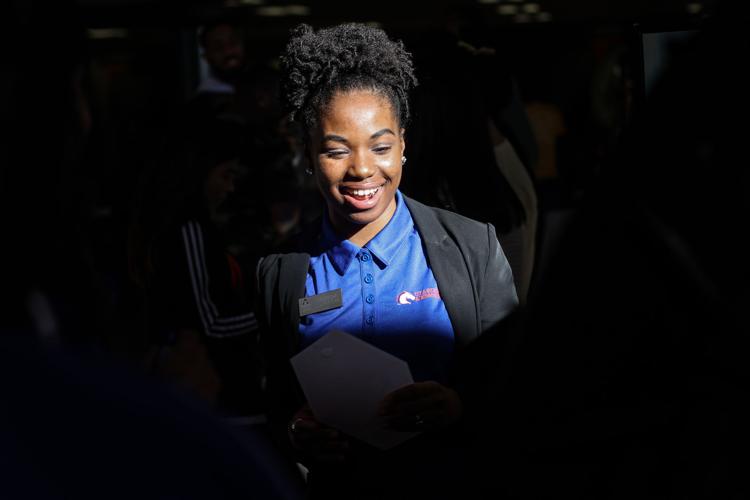 As efficient as her planning skills are, there are moments when Robinson becomes overwhelmed by her seemingly endless commitments.
Prioritization is key when it comes to juggling that amount of responsibility, Latoya Oduniyi, Sigma Gamma Rho Sorority, Inc. academic adviser, said.
"You can't function on 11, long-term," Oduniyi said. "I keep reminding her she has to function at a rate that is maintainable."
Robinson has many family members who don't have a college education. Some of her biggest motivators are her younger cousins who, as girls, look up to her as a role model that represents a future they can achieve, Robinson said.
Robinson said she wants to set an example for her younger cousins.
"I think it's her wanting to change just the narrative," Oduniyi said. "She doesn't want to fall into the realm of being another statistic." 
Robinson's desire to provide minority communities with a voice motivates her to find suitable channels and resources for issues faced by people in those communities.
O'Brien said diversity does not always mean inclusivity or unity. However, Robinson's leadership and involvement allow her to become a uniting force between communities on campus that don't always intersect.
Robinson strives to bring the issues of minority communities and organizations that she is a part of to the proper channels, such as Student Governance, to create solutions, she said.
"She's a driving force to help UTA be as united as it can be," O'Brien said.
She also doesn't take her leadership roles as a black woman lightly.
"If I am that only black person in certain roles, how I act may jeopardize how certain people would feel about other black people being in that position," Robinson said.
Sometime early during her college career Robinson realized that if she died then, UTA would be no different.
She is hopeful the bills she has created through Student Senate will enact change long after she is gone, leaving a legacy of hers behind, Robinson said.
One day, Robinson hopes to organize recreation centers for kids in poor areas of the country, providing mentorship and a safe space from drugs and violence.
What can already be seen is her impact on the communities she has involved herself with and the relationships she has established within those communities.
"She's a one-in-a-million type person," O'Brien said. "Like, you don't get the opportunity to come across that student a lot." 
@edmedeles