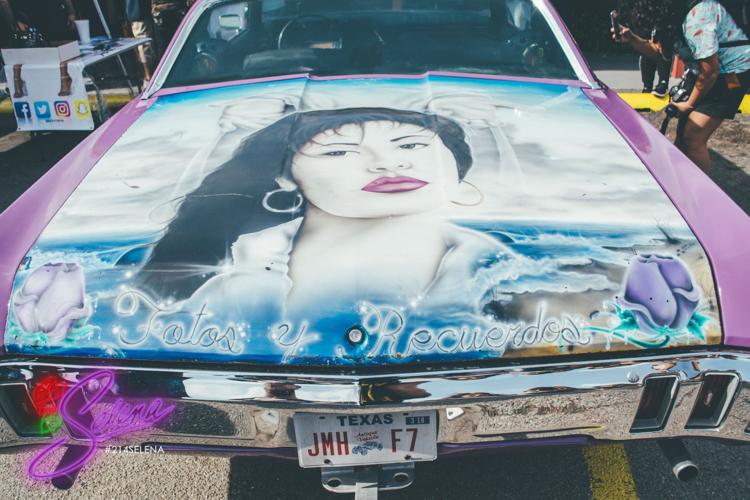 If the late singer Selena Quintanilla-Pérez was alive today, she wouldn't be a millennial. But millennials continue to "do the washing machine," listen to "Bidi Bidi Bom Bom" and draw inspiration from the Queen of Tejano more than two decades after her death.
A testament to this is 214Selena, a three-day celebration throughout Dallas beginning on Friday. The event will include a Selena karaoke night, art show, movie screening, car show and look-alike contest.
The event is put on by De Colores Collective, a group that supports Latinx culture in the Metroplex through podcasts and community events, as well as Sour Grapes, an art collective based in Dallas.
This will be the event's sixth year, said Rafael Tamayo, De Colores Collective co-founder.
214Selena was conceptualized when Sour Grapes founder Arturo Donjuan gave Tamayo a low fade haircut with a comb-over. Donjuan had an idea for an event to celebrate Selena's legacy in Dallas, he said.
The event's name would serve to demonstrate the late singer's ties to Dallas as well as express that the event was created for the singer herself.
The first event consisted of a car show and after-party at Country Burger, a restaurant that displays Selena memorabilia. Tamayo said the event has really blown up since then, especially last year's.
Tamayo said this is because Latinx millennials look to their past as they try to find themselves. He said modern-day Latinx music often pays homage to earlier sounds like cumbia and the Tejano sounds of Selena.
"In this mix of trying to figure out what we are, we're actually creating something that's pushing us forward," he said.
He said many Mexican-American millennials can relate to being labeled as "not Mexican enough," which is why many can rally around the Queen of Tejano who celebrated her Chicana identity without actually speaking Spanish.
Music education junior Alexis Galindo grew up listening to Selena. She said her West Texas-raised mother and her father from Durango, Mexico, played the singer's music throughout her childhood.
The RISE A Capella music director grew up singing Mariachi music and used Selena as motivation. Galindo's favorite Selena song to sing is "No Me Queda Mas."
"Knowing that she sang a lot of that stuff really inspired me to just keep pushing forward and knowing that women can make it in music," Galindo said. "She was definitely impactful in that way, inspiring me to continue music in the Latin world."
Although 214Selena is a celebration of Mexican-American culture, Tamayo hopes the event transcends race and provides a platform for the community to come together, he said.
"Her music is just timeless," Galindo said. "You don't even need to be from the Hispanic culture to know her music."
@arianamariel_