Classic gym settings or monotonous workout routines are not for everyone.
Those seeking an alternative fitness experience might find an answer in rock climbing. Its communal nature and mental involvement have helped this physically demanding activity climb in popularity the past couple of years.
Gym anxiety, or the fear of being judged based on one's fitness level at the gym, is something that affects many individuals who are starting their fitness journey. If the thought of a crowded weight lifting area at the Maverick Activities Center is frightening, consider rock climbing at the climbing wall just a floor below.
Undeclared sophomore Joey Anderle said he started rock climbing last February because of how self-conscious he was about other workout methods. Anderle now works as a climbing wall attendant at the MAC.
The climbing wall at the MAC provides everything needed to climb, including shoes and harnesses. There is always an attendant to help anyone wanting to climb, Anderle said.
Biology senior Travis Bass climbs about three to four hours a week and describes the activity as a full body workout. Big arms are not necessary. In fact, rock climbing demands a lot of mental strength as well as physical, he said.
Although it is a full body workout, rock climbing will mostly affect the arm or leg muscles depending on your climbing style, Anderle said.
Lifting weights can be monotonous, Bass said. But along with having to physically lift oneself, a rock climber must think strategically about their next move to maneuver themselves upward.
"It's both your brain and your muscles at the same time," Bass said.
Like many fitness outlets, rock climbing can help students relieve stress.
Climbing requires absolute focus. If you're mentally distracted by classwork or other things, then you will most likely take a plunge into the padded floor, Bass said.
Interdisciplinary studies senior Savannah Almond said that rock climbing has improved all aspects of her life, including her struggle with depression.
Almond has climbed in three different countries and has ascended the world's highest freestanding rock wall in Holland twice, she said.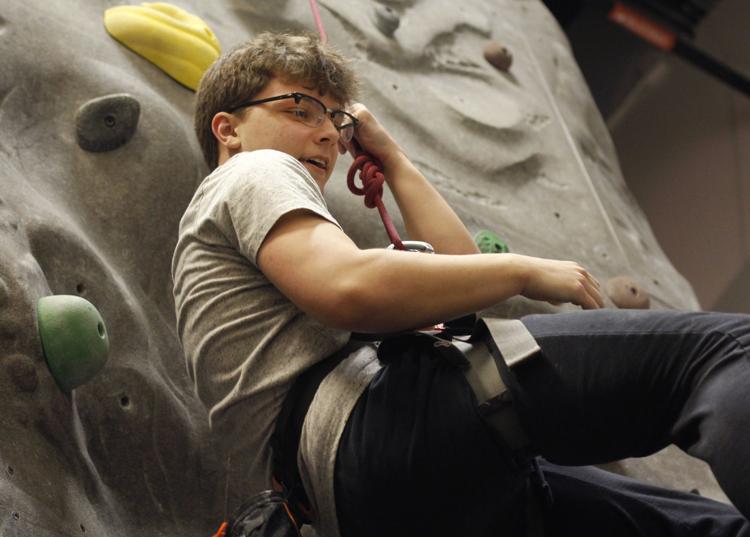 "I think it's because I'm so passionate about it that when I don't do it, I feel very incomplete," Almond said. "It's a part of me now."
Rock climbing is not an activity done in solitude. There are communities of rock climbers at every wall that will help encourage newbies, Almond said.
Anderle said that it typically takes a beginner a month and a half to get to an intermediate level and that almost everyone has a humble beginning, which creates a judgment free environment.
Students interested in rock climbing at the MAC can do so for free and can visit the climbing wall's webpage.
@edmedeles