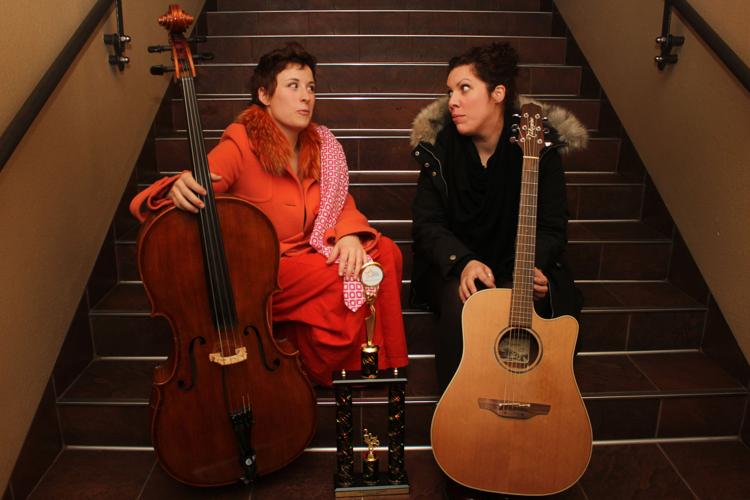 How's the moon? How do you feel? Were people mean to you today? Those are the kind of questions Lauren Barry-Smith and Ashley Falgout ask each other before they perform.
The two make-up Verm & Loretta, the winner of Excel's third Battle of the Bands on Saturday. The Blues/Soul/Folk/Experimental Duo competed with five other bands for a grand prize of a gift card and studio time courtesy of UT Arlington Records and the music department.
The Shorthorn sat down for a Q&A with Excel's Battle of the Band's winners, Dallas resident Ashley Falgout and construction management sophomore Lauren Barry-Smith, to uncover their beginnings and inspiration behind Verm & Loretta.
The Shorthorn: So what is Verm & Loretta? 
Lauren Barry-Smith: Verm is my Cello.
Ashley Falgout: And Loretta is my guitar.
LB: We were vacillating too much not knowing what to call ourselves.
TS: Can you describe your friendship for me?
LB: Sisters.
AF: Sisters! Literally bubbles and unicorn happiness.
TS: So, how did Verm & Loretta get started?
LB: In Lakewood, a neighborhood in Dallas, I was playing with a folk band, first gig, first gig ever out and about, and her boyfriend at the time was running sound. And he came up to me after the show asking if he could give her my number because she's been wanting to play with with a cellist. And I say yeah! And then I think we played our first show within a month.
AF: We just hung out and played. It was just fun. It was something to do. Something to enjoy. Plus nobody would play with me! She was like the only one that was like, 'Let's do this!'
LB: And then within two years, I think, we became roommates and paid our rent by playing gigs.
AF: We sure did! Good days.
TS: What's the namesake of Verm & Loretta? 
LB: Verm. I'd say the character Verm is just a down-and-out, stinky kid.
AF: Yeah, our alter-egos. We're stinky kids 
LB: She hangs out near the railroad tracks. And Loretta...
AF: She's a barroom girl. She just does what she wants when she wants to. And sings songs and drinks whiskey and just has fun.
TS: Describe your music with a genre.
AF: It's definitely like an empathetic bluesy soulful hodgepodge.
LB: We love to improvise.
TS: Describe your music without a genre.  
AF: Empathetic
LB: It's always emoting imagery of a dark night's on, high in the desert, out in the desert for me.
TS: What brought you to Battle of the Bands?
LB: When I was really excited to enroll in the beginning of January this year, I saw a poster in the engineering building and entered us pretty much right away. I wanted to get involved, and I knew I could show up for this!
TS: What part of your set were you most excited about?  
AF: Honestly just being up there is really exciting.
LB: It was a lovely setup.
AF: It was just a really good event, and everyone was real happy to be here. That was nice.
LB: Seeing people happy to be here
AF: And sober! 
TS: What was it like when you found out you were one of the six bands chosen for Battle of the Bands?
LB: I had a little happy secret for one day until I got to band practice with her. I was like, 'Get your booty in order because we're gonna battle!'
AF: And I was like, 'Cool, let's do it!'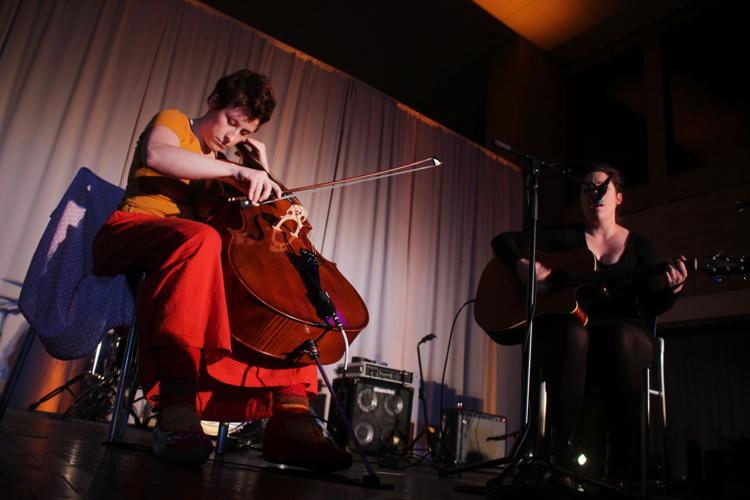 TS: Do you all have musical inspirations?
AF: Loretta Lynn. 
LB: John Lee Hooker. 
AF: Big Mama Thorton. A lot of blues.
TS: Does Verm & Loretta play in Arlington at all? If so, where?
AF: Truth Vinyl.
LB: Bentley's.
AF: Mostly Dallas though.
LB: Three Links in Dallas.
TS: Why do you both enjoy playing in Arlington?
AF: It's home.
LB: And it's laid back.
AF: It's different. Cheaper drinks.
TS: What's different?
AF: My mom is a musician, and so I always... It's interesting to see what bars use to be what bars, or what place use to be what places. It's just home.
LB: Her mom use to bring her to gigs when she was little [in Arlington.]
TS: So what was it like to win?
AF: Very unexpected and really like, 'What? Are they sure?'
TS: Where is the trophy going?
AF: Oh, it's going on the mantle. I'm gonna show all my friends that always pick me last.
LB: We have friends who tour with big names and are doing national tours and stuff, but they don't have a trophy! So we'll just rub it in their face! We'll put it in the band room.
TS: Any advice for other local aspiring musicians?
AF: Believe in yourself. The internet is a lie.
LB: Play often for people.
AF: And don't give a f--- about anything!
LB: Play out in the streets. Get outside and play whenever you feel like it. Busk. Play for old people in the nursing home.
AF: Old people are fun. We're all gonna be one one day.
LB: If there's any common areas, bring your instrument because people need that.
TS: Any upcoming projects?
AF: We have an EP we're working on. We just need to get it mastered, and it'll be good to go.
LB: We're really excited to record the one here on campus because the fresher the better.
TS: Where can we find you?  
AF: Youtube; search Verm & Loretta.
@arianamariel_