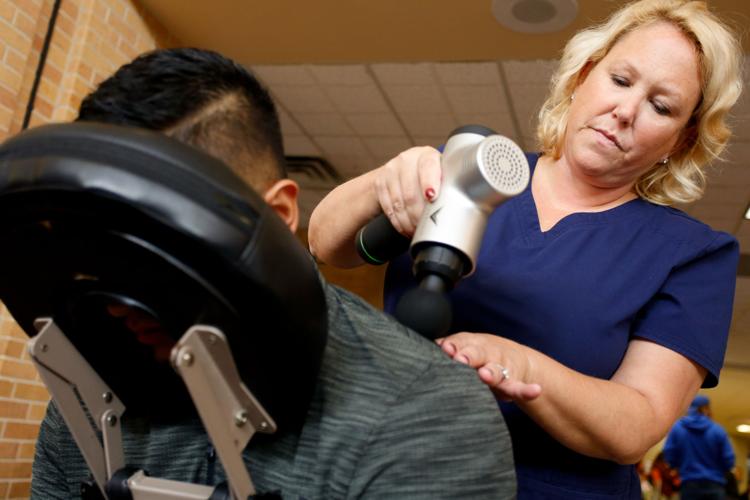 At the peak of the semester with assignments starting to pile up, students may find themselves struggling to balance life's daily obligations.
Stress is how the brain and body respond to any demands such as work, school or major life changes, according to the National Institute of Mental Health.
Routine stress comes from daily living obligations such as bills, kids and jobs. This stress is sometimes ignored, but if left uncontrolled, it can negatively affect one's health. Preventing and managing stress can lower the risk for conditions such as heart disease, high blood pressure and depression.
Figuring out how to manage this stress is essential in maintaining good health. Luckily, several resources on campus and at-home remedies can help kick it to the curb.
Power naps
Instead of having a cup of coffee when feeling drowsy, try taking a power nap.
According to the American Psychological Association, taking naps can improve alertness and motor performance.
Nursing sophomore Camille Buster is normally stressed about exams and the pressure of applying to nursing school.
Buster said taking just a 30 minute nap a few times a week helps her cope with stress. After taking a nap, she feels relieved and not so anxious.
Power nap sessions are held every Tuesday at 1 p.m. in the Maverick Activities Center. Blankets and eye masks are provided, and students can bring their own pillow.
Getting more sleep enhances daily performance, said Sineyda Ortiz, Campus Recreation assistant director of fitness.
According to the U.S. Department of Health and Human Resources, naps can also boost brain power but must not be done after 3 p.m. or be over an hour to have the best effects.
Many times students pride themselves on not sleeping for days, but that isn't healthy, Ortiz said. Insufficient sleep can lead to irritability and is linked to poor behavior and trouble with relationships.
Missing even just one hour of sleep can cause one to focus less on the next day and slow down response time, according to the U.S. Department of Health and Human Resources.
"Sleeping is part of wellness," Ortiz said.
Meditation
Meditation is a mind and body practice known for increasing calmness and physical relaxation, improving psychological balance, coping with illness and enhancing overall health and well-being, according to the National Center for Complementary and Integrative Health.
Meditation focuses on the interactions between the brain, mind, body and behavior.
Mind and Meditation sessions are held every Tuesday at 6 p.m. in the MAC. The goal of the 45-minute session is to quickly reduce stress and anxiety, find peace within, and stay calm and focused, Ortiz said.
"We want to make sure that not only students are getting physically active but they're also taking care of their minds," she said.
Massage therapy
Licensed massage therapist Wes Nelson said the primary benefit of massages is that it releases oxytocin. Oxytocin is a brain chemical that plays a role in regulating moral behaviors, according to the American Psychological Association.
"They call it the happy hormone," he said. "It just helps you to feel a lot better overall. It's a calmer effect."
Campus Recreation offers therapeutic bodywork and relaxation massages by appointment in the Maverick Activities Center. Unlike the power nap and meditation sessions, the massage sessions come with a charge.
Ryan Hulla, experimental psychology graduate student, sits at a computer all day, so he needs the massage on a weekly basis, he said.
After his treatment, he said his anxiety decreases, and he feels the effects of the massage for several hours.
While treating oneself to a massage can feel good, the APA suggests giving self-massages can be just as effective.
Tiffany Field, University of Miami Touch Research Institute director, said in an APA article that giving a self-massage is easier than people think. Anything that provides pressure can work.
Placing a tennis ball between your shoulder blades and the wall and doing deep knee bends is a way to give an effective self-back rub, according to the article. Another option is to buy a cheap wooden or plastic massage device that is easy to carry around or keep in an office.
Massages can lower blood pressure, slow heart rate and boost immunity, according to the article. Massage therapy can lessen stress, depression and anxiety.
"I don't think a lot of people know the effects of what massage therapy can have on their psychosocial state," Hulla said.
With midterms coming to an end, other stressors may be on the horizon — including finals. Remembering a few de-stressors could make or break a student's performance.
"I think it's important to do things for yourself," Buster said. "If you're not, you're constantly going to be tense and stressed out."
@DianteMarigny