Here's the scene: It's Nov. 6, 2018. Election night in the state of Texas. Democratic State Senate candidate Kendall Scudder and his team are gathered for a watch party in Reunion Tower — and they're losing.
By the end of the night, Republican incumbent Bob Hall defeated Scudder by a margin of almost 50,000 votes, and there, among the disappointed, was political science junior Brian Black.
"We were all there, and we were thinking, 'Well, now what?'" Black said.
But from the loss came "Pod Bless Texas" — a podcast hosted by Scudder and co-host Lillian Salerno, who had lost her primary election the May before. It's recorded and produced in Salerno's wood-paneled home office in Richardson.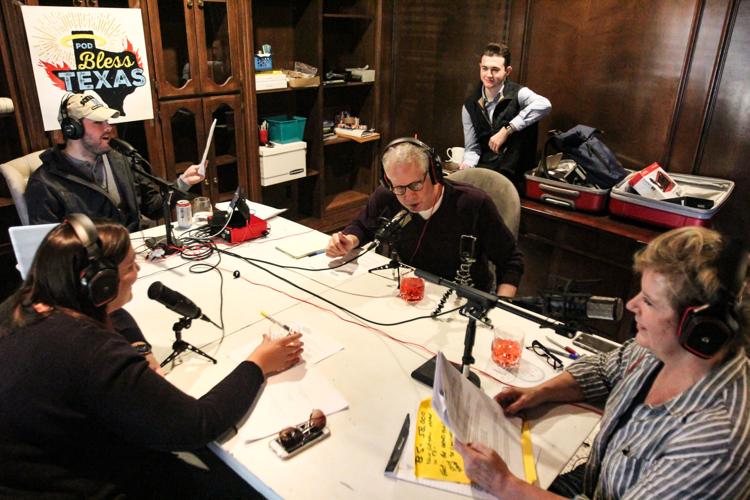 Black and his friend, public health junior Marcos Gonzalez, contribute to the podcast as occasional third-mic commentators.
"It's been a thrill so far, incredibly fun," Black said.
The project was started as a humorous, nontraditional way for listeners to follow along with the current legislative session.
Between the drinking, cursing and lighthearted personal ridicule, the hosts make time to share their passion for politicking within a roughly one-hour window of time.
"I like to think that Lil and I are the most lovable losers this side of the Mississippi," Scudder said. "We're a bit irreverent sometimes, but we're hilarious; just ask us." 
Scudder approached Black about joining the "Pod Bless Texas" team after being impressed with his work ethic during his campaign.
"You know, the thing about campaigns is if you find a person who works hard, you hold on to them and then the more that you accomplish, the higher you rise up in a campaign," Scudder said. "You don't just typically get to walk into a campaign and get a leadership role. You have to kind of put in some time, and Brian did that."
Black now serves Student Government as a College of Liberal Arts senator and Student Affairs committee chair. Gonzalez served as his campaign manager through the election process. The two met in third grade and graduated together from Terrell High School last year.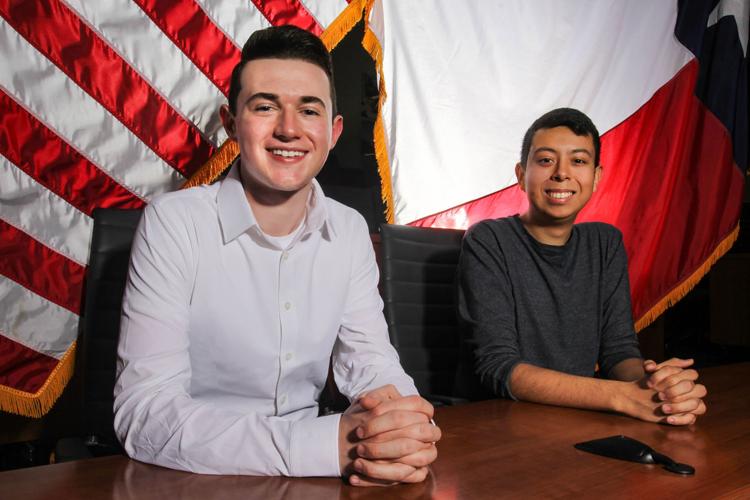 Gonzalez said their interest in politics was kick-started in the wake of the 2016 election, and soon after they started a political youth outreach organization to mobilize young voters in Kaufman County.
Gonzalez remembers an inciting incident after Election Day in 2016, in which a classmate singled him out in the hallway and announced, "You're going back to Mexico."
Ironically, Gonzalez was born in Rowlett.
"I think politics plays a much more important role than people see. These are people who are making decisions about your healthcare, about your education, about your jobs, about your income, about your taxes and much more," Black said. "I think whenever we elect the right people then we get the best results. So I plan on being the right person." 
At 18 years old, Black and Gonzalez admit they're no strangers to dismissive attitudes about their age. But they say that doesn't discourage them.
"It is refreshing for everybody to see young blood, to see just new people and new faces coming up with new ideas to improve whatever it is — a city, a campus or the country," Black said.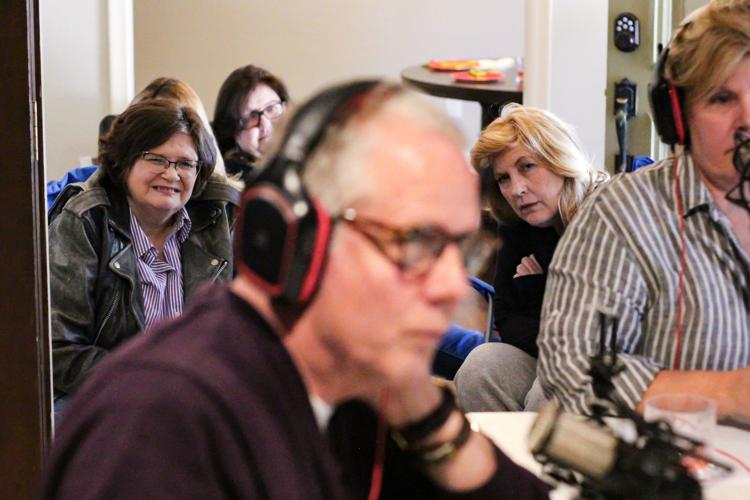 He hopes to be one of those new faces and believes the podcast can play a hand in reshaping people's relationship with politics.
"It's something that is so accessible to young people, and if we make it funny, make it relatable, then politics can be changed as we know it," Black said.
"Pod Bless Texas" now has four complete episodes under its belt, and new installations are released each Monday. Scudder and Salerno foresee the project sticking around for a while.
"We want people to know that there is a place where they can put their voice out there and that they don't have to go through some high-dollar political consultant; they can get out there and get their message out there and get elected," Salerno said.
In the meantime, Black is looking forward to working as a student senator and introducing new legislation this spring.
When asked about his involvement in politics, his answer is simple:
"It's what runs in my blood," he said.
@shaydougie