With the growth in do-it-yourself project ideas offered by sites like Pinterest, students may be able to create their own decorations to add personal touches to living spaces.
Old roses once full of life can be recycled into nice adornments for living spaces, communication technology senior Sarina Proctor said. She was able to create her own DIY home decor by manipulating the roses for a desirable look and vintage touch.
She learned her decorating skills at a young age from her mother and constructing from her father, who handcrafted a large, portable chicken coop with plumbing for their farm, Proctor said.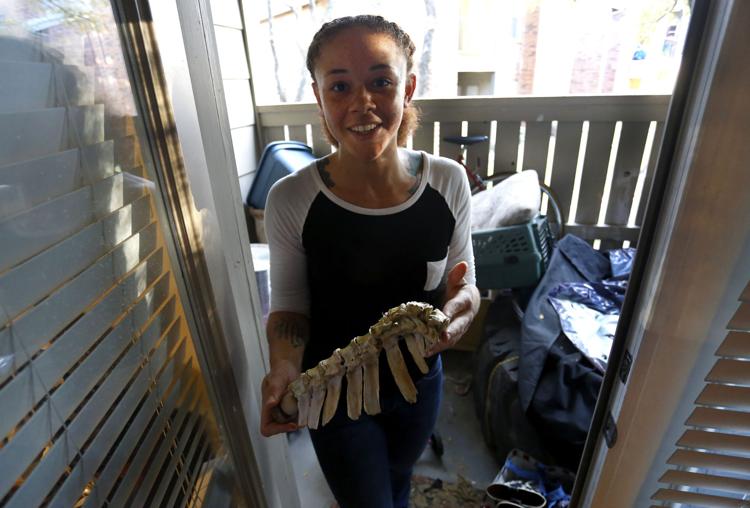 Frequent hikes with her daughter led Proctor to create her own terrariums and other designs with bones, sedimentary rock and unique insects, she said.
Her next project is crafting a moose head using sunflower oil, low-quality toilet paper and glue, Proctor said.
Nursing junior Susanna Case said she created a record player stand for her new apartment out of a magazine rack from Goodwill.
"It looks, like, really cool and vintage, and I literally paid like $4 for it because I refurbished it," Case said.
Case spray painted the stand and created shelves for the records, then drilled holes on top of the stand to set the record player on.
"I have been working on but, like, haven't finished a little herb garden stand," Case said.
She will screw pieces of wood together to resemble a milk crate and stain it. To finish it off, Case will use hooks to hang the herb garden from her balcony.
People are able to show off their personalities when they are able to create their own projects and designs, certified interior designer Karen Dixon said.
"When I was in college, wicker was the big deal back then," Dixon said.
Dixon painted her wicker chair orange during college, Dixon said. Her friends were wowed at how she altered the appearance of her dorm upon seeing it.
"When you walk into a home and somebody creates their own DIY projects, it just screams out 'that's Karen' or 'that's Kalyn' or whatever," Dixon said in reference to herself and daughter.
Students are able to avoid mimicking other designs by personalizing a project with desirable results, Case said. They can easily produce DIY home decor by painting simple canvases, creating streams of photos and banners to spruce up their rooms.
"You can buy anything old and paint it," Dixon said. "Spray paint it and make it new and make it your own."
Visiting resale shops and garage sales can aid students in finding a complementary piece for rooms, Dixon said.
Proctor's favorite production was a shelf made from a slab of wood and shaped like a rugged arrowhead from Traders Village, she said.
While creating decor may add personality, students can decorate their own spaces by utilizing what they have to add life to the appearance of their spaces, Dixon said. Starting with an art piece or an inspirational item can help students form a vision for their room.
"When I redid my bedroom, I think I used the color of a rug that I like and it had all the colors that I wanted in it," Dixon said. "It had orange and gray and beige."
From there, Dixon worked with the colors and designs of the rug to repaint her walls, added decorative pillows and bedding and matched it all with a wood-stained mirror that she eventually painted over.
Pillows, frames and prints can make a room feel homey, Dixon said.
Proctor said she loves decorating her home and hopes that one day her children will see how many things can be created from recycled items.
"To create something for your own home, you're always gonna be proud of that," Proctor said.
@sananda_mccall