It's a Tuesday night at New Main Brewing Co. and instrument cases lined the mirrored walls of the open venue.
A guitarist picked up a tune, and a saxophonist followed. Soon, a drummer tapped in, keeping the beat steady as jazz filled the room with syncopated sound.
The year-old Pantego brewery is run by alumna Amanda Daniels and her husband, David Clark.
UTA Music Department jazz students come together every Tuesday to create a toe-tapping tune, and the music doesn't stop for hours.
The space all started with a small brewing kit Daniels bought as a birthday present for Clark in 2012.
"It just went downhill from there," Clark joked. "We made our first batch of beer. It tasted terrible, but we drank every drop of it."
It wasn't easy for the couple at first. As with any business, a learning process was underway, and Clark was ready to take on the challenge.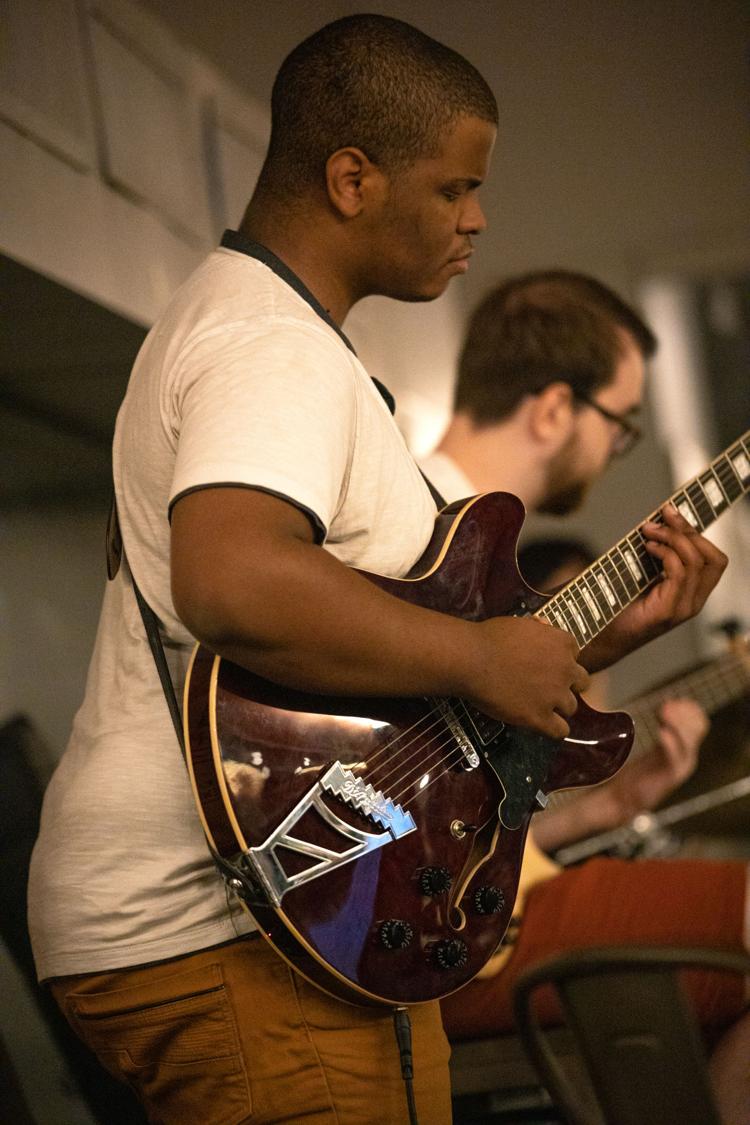 "Our production system right there is most breweries' pilot system," he said. "We're big in space, real small in production."
Clark said the thing he loves the most about owning the brewery is the learning process. From the recipes to the styles, Clark fell in love with making something for the first time.
He described brewing as an artistic expression. The couple used that inspiration to brew their new beer, The Maverick, in homage to UTA.
Throughout the venue, their logo, a nautilus shell, is painted and stamped.
Daniels said the nautilus is the only creature that grows in a logarithmic spiral. For her, it shows growth and expansion.
"We started out so tiny that we're just constantly growing into our space," she said. "So, that's kind of symbolic for us."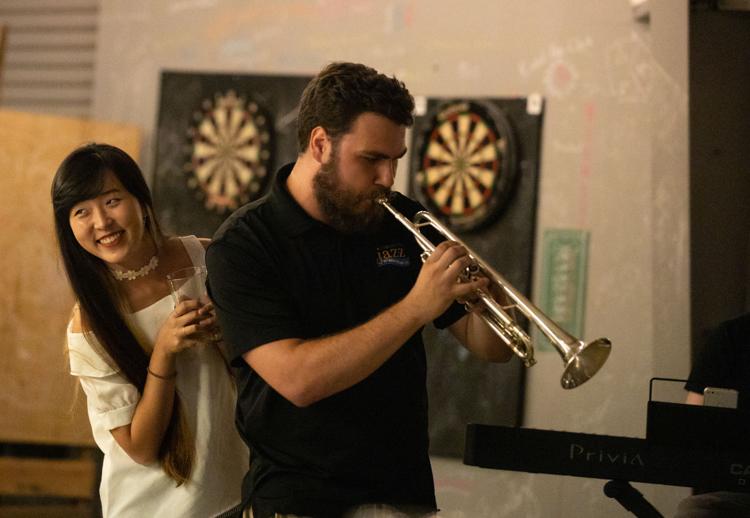 Early on, the couple held a saxophone faculty and student concert in a space within the brewery called the living room. They even brewed a beer named Saxobeer.
Tim Ishii, jazz studies and saxophone director, who is currently on sabbatical, brought the idea of having a jam session on Tuesdays. For almost a year, the sessions have stayed consistent.
Since January, jazz studies junior Stephen Harper has connected to others in the Music Department and created a tight-knit family, he said. Time spent at the jam sessions is time for him to bond with the students and community.
"A lot of times, as musicians, we don't get the opportunity to have a space like this, to do what we're doing, explore, and connect," Harper said. "Since they've provided this, it's been something kind of special."
For Daniels, she knew she could use the space to help fellow jazz students like her. Daniels graduated with a master's in trumpet at UTA in 2014.
She also wanted to provide students and the community a place near Arlington with live music and a cool atmosphere.
"They're always looking for places to play 'cause the recital hall they have gets so booked up," she said.
Music Department chair Dan Cavanagh said it's important for music students to be out performing because it gives them extra practical experience. It's what they're at UTA to learn how to do.
It's also a fun, lively environment, he said.
"That's kind of what jazz has always done," Cavanagh said. "It's always been part of that kind of atmosphere."
The venue, with its large mirrors and open space, used to be a gymnasium for mixed martial arts training, Clark said. Before that, it was originally built as a cheerleading gym.
Various furniture pieces now occupy the space.
Clark said every piece of furniture has a past relationship with someone the couple has interacted with. When he would pick up the furniture from people nearby selling the item, he would tell them about New Main and, if they ever wanted to come by and see their old chair again, they could hang out, have a beer and chill in the living room area.
"Everybody's fingerprints are all over this place, and not just because I haven't wiped them off yet," he said.
During the jam session, Harper, who plays the guitar, bobbed his head to the music, flitting his fingers over the chords with a smile. He said his favorite part of jazz is that it's pure, and yet, it's raw.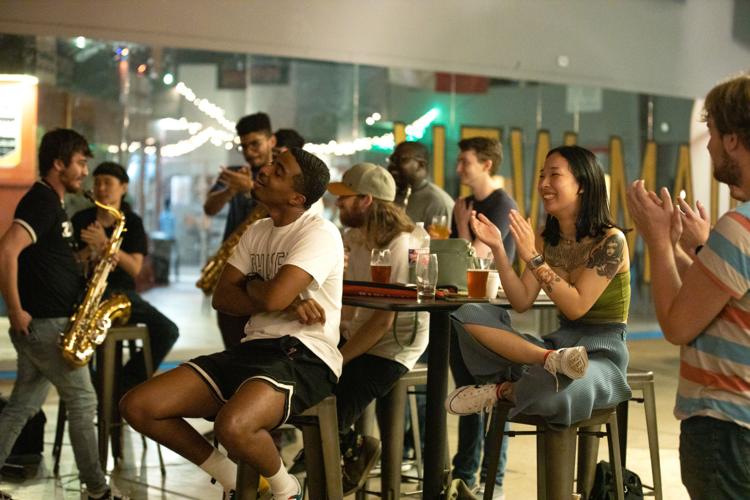 "It's pure because it's from the heart, and it's from the soul, but it's raw because it doesn't go through a lot of filters," he said. "It is what it is. It doesn't try and appease someone's ears or what someone wants to hear. It's really just, you, yourself and the music."
Harper said he likes playing at the venue because it's different and it's low-key. It's nice to sit, play and have fun under the low lighting with their cases strewn beside the big mirrors.
"It's really organic," he said. "This is a chance for us to kind of express and explore musical ideas."
Patrons swayed to the rhythms with ease, drinking red and yellow beers from glasses with the nautilus shell design. The saxophone and guitar played on.
@amnda_pdilla