After a national and local collaboration, months of planning, almost 20 gallons of latex exterior house paint and over 400 service hours, Arlington is now home to a national Rosie the Riveter memorial rose garden and mural.
The garden and mural are part of a campaign by Spirit of '45, a nonpartisan coalition of organizations dedicated to honoring men and women from the "Greatest Generation," or those who grew up during the Great Depression and fought in World War II.
Four local Girl Scouts worked on this project to earn their Gold Awards, the highest achievement a Girl Scout can reach. Each Girl Scout was individually responsible for a different leadership role in the creation of the monument, project mentor Rachel Glasser said.
"That was kind of what Rosie the Riveter was all about — women working together to get something done," said Amy Stephens, public artist and project mentor.
Rosie the Riveter, a popular cultural icon, was the star of a campaign to recruit female workers during World War II. Clad in a red and white bandana with her sleeves rolled up over her elbows, Rosie has become a national icon for working women with her well-known slogan, "We can do it!"
To commemorate women who worked during World War II, Spirit of '45 is partnering with local Girl Scouts to create Rosie the Riveter monuments in all 435 U.S. Congressional Districts, the areas from which people are elected to the U.S. House of Representatives.
Glasser said the monument fulfills the sixth congressional district, and the garden is located at the Upstairs Gallery, owned by a local family whose mother started an art gallery in the '60s to support Arlington artists.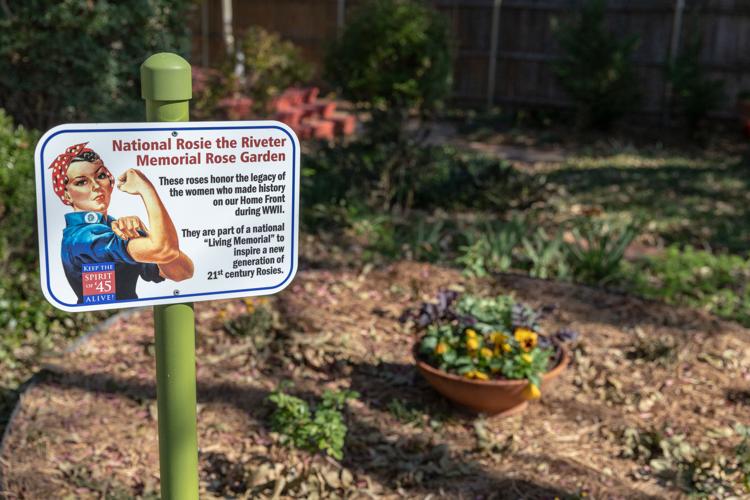 "It's really great to have that relationship in the community and support from local people," Glasser said.
The mural is located just a couple blocks from the garden, on the exterior of Precision Press Printing & Graphics.
Collectively, the Girl Scouts earned over 400 service hours working on this project, Glasser said.
Sarah Teel, Girl Scout and Arlington High School student, was in charge of creating the rose garden, which had to include Rosie the Riveter roses as a requirement to be part of the national movement. The pink, orange and gold flowers were specially crossbred in 2018 by flower company Weeks Roses to symbolize feminine charm and strength and commemorate the national icon, according to the Weeks Roses website.
Stephens worked with Rachel Hollins, Girl Scout and Seguin High School student, to paint the mural.
Once Hollins chose the images for the wall, Stephens helped her plan, outline and paint them.
The mural includes the traditional portrayal of Rosie the Riveter, with her flexing her bicep in front of her slogan, but with the addition of two black women riveting, fastening plates of metal with rivets.
"[Hollins] really wanted to make sure that African American women got spotlight because nobody ever gives them any, especially in history books," Stephens said. "That image might just be in a collection somewhere, but now it's on a wall for everyone to see."
Hollins said she chose these images to commemorate the contributions of all women in the war.
During World War II, more than 310,000 women worked in the U.S. aircraft industry, making up 65% of the industry's workforce, according to history.com. Women of all races changed society's expectations of what job a woman should work, and Hollins said she wanted to pay them tribute.
"Not only just women worked in the war, also women of color worked in the war," she said. "They were seen as underrated back then. We need to give more acknowledgement [to] women of color or different races and ethnicities."
@CecilLenzen