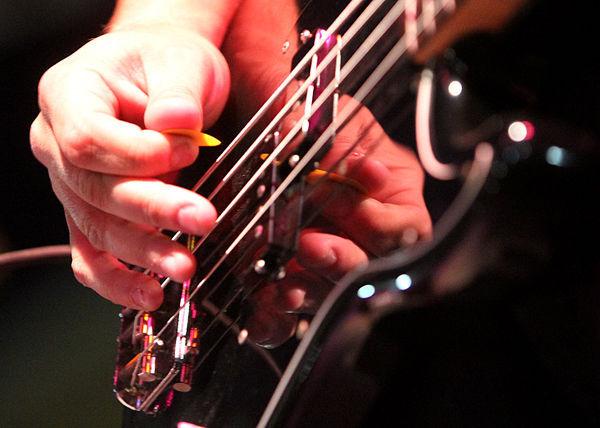 All is fair in music and war. 
Excel Campus Activities hosts Battle of the Bands this Saturday at 7 p.m. in the University Center Palo Duro Lounge. In 2016, Excel event coordinator David Cervantes revived Battle of the Bands from a five year hiatus. This year, Cervantes said he is eager for round two. 
Last year, Cervantes said there were nine applications and three performers. This year, there were 21 applications and there will be 10 bands preforming. The bands will compete for the grand prize which includes six hours of recording time at the UTA recording studio and a contract to open at the Campus limits music festival this March.
Students can expect to hear everything from R&B, 80's synth and ska. Get to know the ten bands that will be preforming this Saturday. 
Emo Blunderbuss  
Emo Blunderbuss will be the returning champs at The Battle of the Bands this year. They are a five-member band and identify with the progressive rock genre, band member Brendon Hotchkiss said in an email.  Their influences are Rush, Dream Theater and Toto, he said.
The band name was born from the minds of two seventh graders in 2010. Now, those seventh graders are the bassist and vocalist of the band, Hotchkiss said. 
Orange Pearl
Orange Pearl is a four-piece rock n' roll band influenced by '60s and '70s rock, band member Patrick Kelly said. He plays out of an orange cabinet applier, which is the big speaker the guitar sound comes out of and the drummer plays on a pearl drum-set.
Flip and The Combined Effort
Flip and the Combined Effort's sound is a mix of hip-hop and Ska-punk, band member Felipe Rosales said in an email.
"In other words, fast energetic punk music with a horn section and spit fire lyrics," Rosales said. 
He said their biggest inspirations are Watsky, Reel Big Fish and Lin-Manuel Miranda. 
 Daze of the Moon
Band member Deryk Weeks noticed a Battle of the Bands flier in the Fine Arts Building on his way to class. The four-member band gives off an eerie, groovy vibe, Weeks said in an email.
"We love hip-hop, metal, funk and rock but we try to make our music sound like everything and nothing at the same time," Weeks said. 
Pajama Party 
Pajama party is a four-member indie/alternative rock band. Band member Andy Hicks said the band draws inspirations from The Beatles, Brand New and the Artic Monkey's, Hicks said in an email. 
Limerick
Limerick is a five-member rock band that draws inspirations from Kurt Cobain, Kevin Parker, Jimi Hendrix and Flea, band member Ashton Guevara said in an email. The band name was born during a fire drill at Red Oak Texas High school. 
The Rocketships
The Rocketships is a R&B, pop and soul duo. Band member Raymond Solis uses keyboards and guitars running through software on his computer to make customized sounds, then uses a software looper to piece all the sounds together to make a song, he said in an email.  
Luna Luna
Luna Luna is a band from Red Oak, Texas. The four-piece band plays original material, according to the EXCEL Campus activities Facebook page.
Black Fossil
Black Fossil is a three-year-old band which mixes rock with jazz elements, according to the Excel Campus Activities Facebook page.
5th Sun
5th Sun is a 3-piece Blues Rock Band with all original music, according to the Excel Campus Activies Facebook page.
"I love supporting the local scene honestly," Cervantes said. "I feel like this is going to be a great way for bands that aren't well known to perform for a larger audience."
@arianamariel_