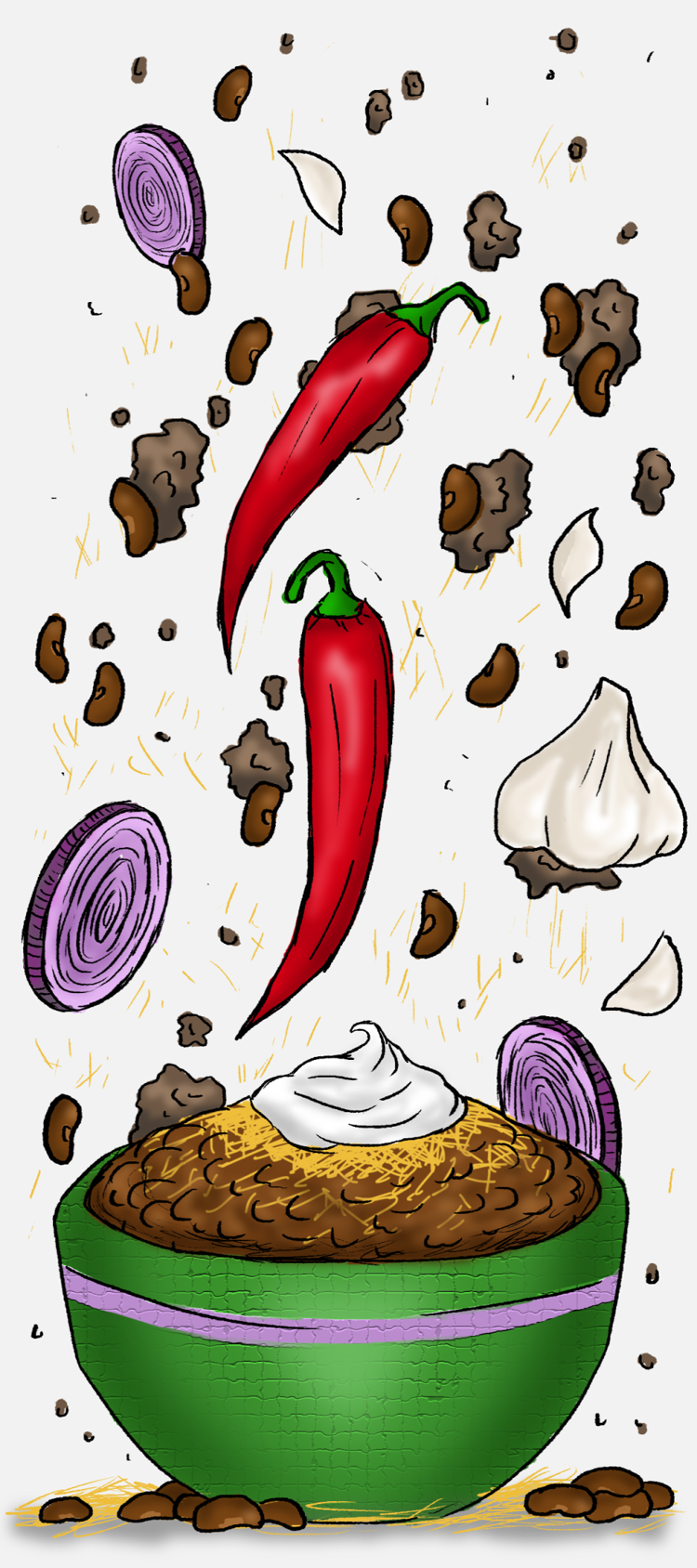 You're reading From Scratch, a series deconstructing the food we eat to explore its history, variety and the way we consume it.
As Homecoming week starts, the cold weather creeps in and a warm, hearty bowl of chili is a meal to be celebrated. For several organizations and individuals on campus, the Homecoming Chili Cook-Off is just one way to do that.
The traditional chili recipe is simple. Taking a note from Frank X. Tolbert, former Dallas Morning News columnist on chili and renowned author of the 1966 book A Bowl of Red, the traditional Texan dish includes lean beef, chili powder, cumin, garlic, chili peppers and more. Contrary to popular belief, beans are not one of the ingredients.
There are a plethora of ways to make chili, and recipes have been tossed around for years: state to state, country to country. Some not-so-traditional ingredients even include peanuts, zucchini and chickpeas. And, yes, beans.
The Variety
For John Hillas, Student Organizations assistant director, it's nostalgia that makes a bowl of chili taste so good. He said his favorite chili recipe is a traditional Mexican dish called Chili Colorado. He remembers the flavors of his grandmother's home cooking in New Mexico.
Chili Colorado translates to "red chili" in Spanish and is made with beef or pork stewed in red chili sauce. Hillas recalled the dried green and red chilis used in the hearty stew, his grandmother rolling tortillas and keeping masa — a Mexican corn flour — in the fridge.
"It's delicious. It's comfort food," he said.
For Seth Ressl, Involvement and Engagement senior director, his most memorable chili experience was the first Homecoming Chili Cook-Off in 2007.
The name of his office's entry was "Chili in a box and cheese blocks," and the story behind it brought a smile to his face.
"We were looking for toppings, and someone had a bag of shredded cheese that was in our office refrigerator, and it had gotten frozen, but we didn't really realize it," he said. "So we had these big chunky rocks of cheese."
For Ressl, the experience was fun and creative. As for his favorite way to eat chili, he said he likes to add beans, although he knows it isn't traditional. His ideal bowl of chili has texture variety and fresh flavors.
Hillas said he prefers his Texas chili "Frito pie style."
"Chips, chili, cheese, some onions — delicious," he said.
Chili is a dish that is reflective of the different cultures that exist in this part of the world, Hillas said.
People make fun of Tex-Mex, and many think it's not a legitimate cuisine, but it is, he said. It's of Texas. It's a blending of northern Mexican cuisine mixed with Anglo-saxon culture, and people are allowed to make it anyway they'd like.
"I like beans, but the official version of Texas, there's no beans," he said. "I don't really get why."
The beans debate for Texas chili has been around for years. The origins of the traditional dish are complex, and it starts with the San Antonio chili queens.
The History
Chili is very much a Texan meal. It originated in the state and became its official dish in 1977.
In the 1800s, Latinas called the "chili queens" brought the dish to the forefront of American minds — and stomachs.
They would sell their stew at the Military Plaza in San Antonio to soldiers and tourists, according to the Chili Appreciation Society International website. The original recipe was called "chili con carne" or meat with chili peppers. They would make their chili at home, load it onto wagons and sell it at the plaza throughout the day.
What really popularized the dish was the 1893 Chicago World's Fair, otherwise known as the World's Columbian Exposition, where Texans set up a chili stand. This was a fair for people across the nation to try new foods, including this Texan dish.
Following this, the first chili contest ever recorded was in 1952 at the State Fair of Texas. However, the most well-known contest wouldn't happen until 1967 in Terlingua, Texas. This was known as the World Championship Chili Cook-off.
What originated as a cook-off between two Texan journalists, Tolbert and H. Allen Smith, author of Nobody knows more about chili than I do, turned into an annually celebrated event, according to an article by The Houston Chronicle. Their cook-off ended in a tie.
Now, Tolbert's daughter Kathleen Ryan and her husband are directors of the 53rd event this year. Ryan is a co-owner of her father's restaurant and chili parlor, Tolbert's Restaurant in Grapevine, Texas, which sponsors the cook-off in Terlingua.
Since UTA's first Homecoming Chili Cook-Off, many organizations, such as the UTA Ambassadors, have done their part in getting the community together around this meal.
The Impact
UTA Ambassadors have won the most spirited table for the past two years at the cook-off.
"We're not the best cooks, but we know we're prideful, and we love the university," said Dylan Hernandez, accounting and finance junior and Mr. UTA.
The UTA Ambassadors even get together the night before to host a prep night to make their dish. Mavreena Purewal, information systems junior and Ms. UTA, said it's a nice way to engage with the community.
As for their tastes in chili, the two had opposing viewpoints.
For Purewal, beans and spiciness are integral to a good bowl of chili.
"The chili could be terrible, but as long as it's spicy, it'd win my heart," she said.
For Hernandez, it's a different story.
"I'm not a big chili eater. I've slowly began eating it," he said. "I don't like beans. I like a little bit of spice, not like crazy — usually the people that win have a little kick to it."
At the end of it all, the pair noted that warm chili on a cold day is great, no matter how it is made.
@amnda_pdilla