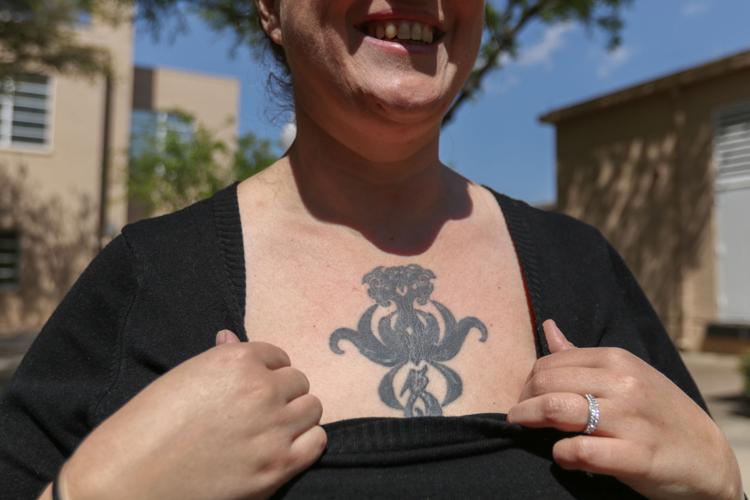 A lotus, tree and infinity symbol manifest into a large chest tattoo that peeks out of December Maxwell's dress as she sips black coffee in The Commons.
"When I was getting it, I wasn't realizing that it had to deal with sexual trauma at the time," said Maxwell.
The social work doctoral student is a sexual assault survivor. While attending the University of Arkansas, she studied how sexual assault victims can find relief through tattoos as part of her master's thesis. She and Johanna Thomas, social work assistant professor at the University of Arkansas, co-authored the study "Cathartic Ink: A Qualitative Examination of Tattoo Motivations for Survivors of Sexual Trauma," which was featured on CNN Health in early March.
The study details that sexual assault victims can find relief through getting tattooed.
Maxwell became interested in the study by listening to other women in her circle talk about getting tattoos and their motivations behind the decision. She began to wonder if getting a tattoo to deal with trauma was more than just a personal experience.
To do this, Maxwell performed a qualitative study, which consisted of face-to-face and phone interviews with 10 sexual assault survivors and seven tattoo artists.
From there, she coded them, which means she read interview transcripts, took notes and tagged quotes with software. Three researchers came together and took their codes to see what kinds of larger themes emerged.
Of the 10 survivors, one interview stood out to her the most. One survivor explained that getting her tattoo wasn't just symbolic — it was also a cathartic and physical experience, Maxwell said.
"She just described how, when she was getting her tattoo, she felt actual emotional release," Maxwell said. "Where she was crying so hard that she couldn't stop herself. Then it got to a point where she didn't want to stop herself. It almost became meditative to her."
This experience inspired the title of the study.
Maxwell was surprised how survivors from their study were willing to share their stories.
However, Thomas was surprised to hear Maxwell's story; she didn't know Maxwell was a sexual assault survivor at the beginning of the study.
"I didn't know initially why December did the study," Thomas said. "I didn't realize it was personal to her. When she told me her own story, I was probably most surprised and most moved by that."
Both authors are inspired to look into how tattoos can help with other forms of trauma. Thomas is interested in researching how tattoos help gun violence victims and their families deal with trauma. Maxwell is interested in researching the tattoos of women in prison.
Thomas hopes this study encourages therapists to have more discussions on alternative healing through art, she said.
Public health senior Whitney Nguyen has a tattoo of a bouquet of flowers to symbolize self love. She said tattoos are often stigmatized because people don't take the time to understand the meaning.
"I just think people kind of jump the gun where they don't realize that this is someone else's relief and this is their art," Nguyen said.
Thomas hopes this study plays a role in destigmatizing tattoos as well. She personally has 10.
"As a society, we're still kind of on the edge of what's acceptable," Thomas said. "I think that when you start talking about alternative therapies and tattoo in that kind of realm, I do think that people will begin to see it differently."
@arianamariel_