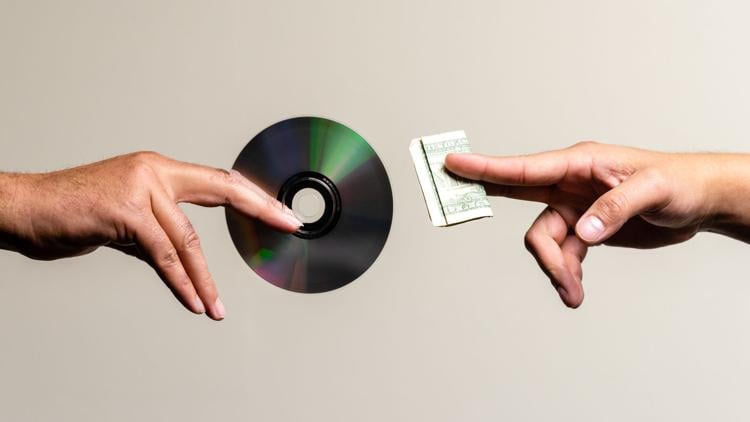 Vinyl may have risen from the dead, but the CD has cheated death for over a decade — all with a little help from the local musician.
While CDs have been widely replaced by MP3 players, smartphones and streaming services, they're still alive and well in the spaces of independent music. 
Victor Toruno often ignores his aux cord for the 10 CDs in his car, and he does so in the name of local bands. Toruno is part of Arlington band Svenny Baby!. On top of that, he co-hosts a podcast called "Arlington Distorted," which details the music scene in the city.
"Local artists like sharing music that way," he said. "So it's great to listen. At the same time it also, like, it's a direct way to support an artist."
There are reasons why musicians still sell CDs at a time when they can simply upload their music to SoundCloud in a matter of minutes. A lot of it has to do with money. It may be easier for fans to listen to their favorite local act on a streaming service such as Spotify, but bands don't make much money that way, Toruno said.
"Even people that are having thousands and thousands upon thousands of plays, it doesn't really get them that much money out of it," Toruno said.
As of 2018, Spotify pays $0.0044 per stream to unsigned artists, according to data site Information is Beautiful. So an independent artist will actually make $4.40 per 1,000 streams.
Sociology associate professor David Arditi founded Music Detour, a site where musicians can upload their music cost-free. Independent musicians have to pay through aggregators such as CD Baby to upload their music on Spotify. Unsigned artists handing out their music via CDs is a response to this, Arditi said.
An artist can purchase CDs in bulk and burn them on their laptop. It's a good way to make a couple of bucks, Arditi said.
But it's not all about the money for local artists. Steve Rodriguez works at GROWL, an Arlington store and music venue that sells comic books, vinyl and CDs, including ones by local musicians.
"To me, a CD for a band is like their business card," Rodriguez said. "It showcases them."
Arditi said CDs are a physical reminder to listen to the artists and helps listeners break away from the over saturation that is digital music. The purpose of the CD could even be for concertgoers to check out the band on streaming services later on.
This is especially the case for younger musicians that give out their CDs for free. They just want to get their name out there, Toruno said.
It's also an opportunity for a band to curate an aesthetic and display album art, Toruno said. He said it's the superfans that are considered when dropping a physical album. There's even a fan that paints caricatures of the Svenny Baby! bandmates for each of their albums.
But of course, there are drawbacks to the portable disc for local musicians.
When a bar or manager is looking to book a band, they're doing their research online, Toruno said. They're interested in streams and followers. They're not going to see how many CDs a band sold.
Toruno also admits he usually only listens to a CD once or twice before he reverts back to listening to the album on Spotify. He doesn't listen to the same album multiple times on a CD.
CDs are here to stay, for a while at least, Arditi said. But Arditi doubts there will ever be a grand revival of the music medium.
@arianamariel_