Though fall starts Sept. 22, students may not find themselves wearing sweaters and boots for a while with Texas heat still in the high 80s.
Bloggers and students shared how they acclimate to trends from summer to fall and the role fashion plays in their everyday lives.
Denim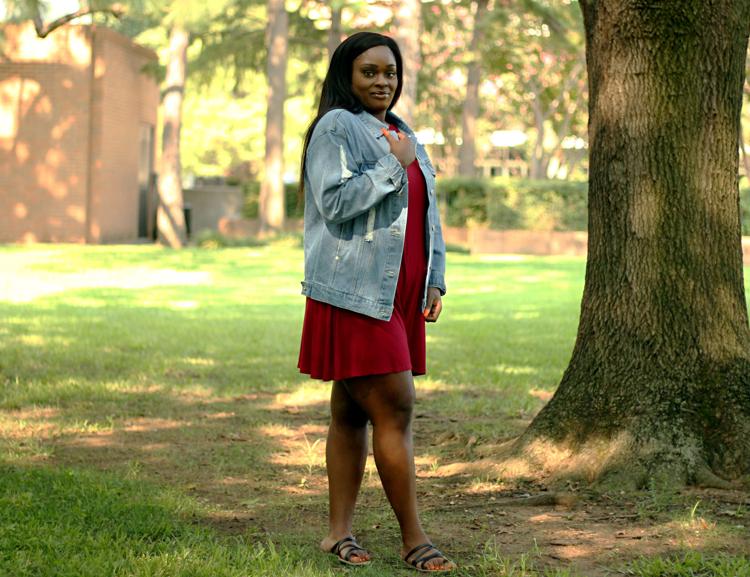 Serving as an added layer or a light covering to keep warm, denim on denim is a trend that is making its way back.
For fashion blogger Anasia Daily, originating a unique style is key to feeling good about oneself. Daily established a fashion website in her name, titled Iridescent.
Daily said autumn fashion is comfortable and flexible, leaving room for versatility.
"The item that works best in the fall is a denim jacket," she said in an email. "You can dress it up or down, and it's nice to wear when it gets cool outside."
Critical languages and international studies freshman Shyria Lewis said ripped denim jeans make a statement and will be a recurring trend as the fall carries on.
She said a cute pair of ripped jeans with a shirt can be seen as simple, but not too plain.
Layers and oversized coats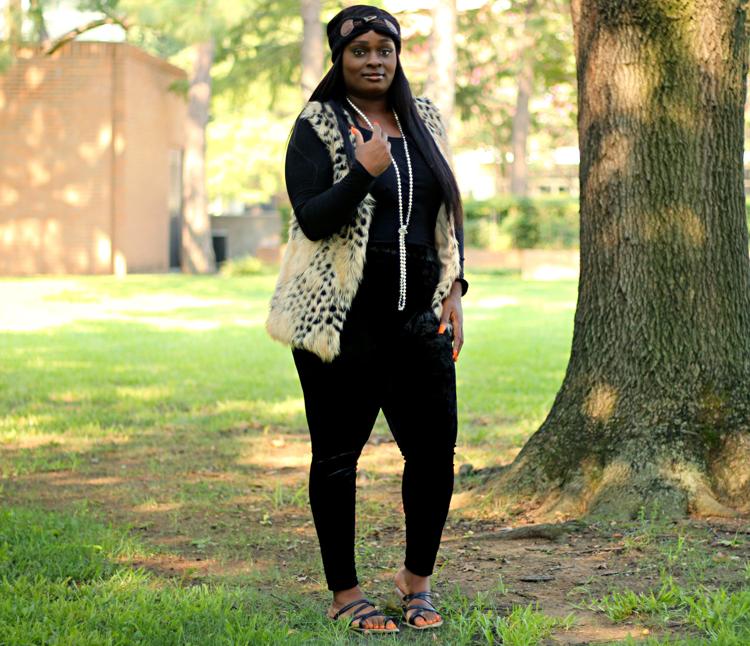 Whether it's a tank top under a cardigan or a long-skirted blouse over blue jeans, layers have made a predominant presence in fall trends.
"My idea of fall fashion is colors and layers," said André Daily, education graduate student and brother to Anasia Daily, in an email. "This is the time to be fashionable, yet warm."
The siblings not only share a passion for fashion, but a love for self-expression.
"I personally think your opportunity to be more fashionable increases in the fall because of all the different fall pieces there are," André Daily said. "Fall wear over all wear."
Lewis said knitted sweaters with leggings might also serve as a cute, yet relaxed look that works for school and the Texas winter. The business casual look has overrun women her age, and she likes suit jackets as well, she said.
Brianna Toomer, Academy of Art University in San Francisco fashion design senior, said fall makes room for versatility in a wardrobe.
"The staple of fall fashion, trend or not, is layers," she said.
At school, Toomer focuses her studies on women's wear and hopes to originate her own line in the future.
Another trend is oversized coats, and jackets will serve as a fashion essential as the weather gets cooler, Toomer said.
Thrift shopping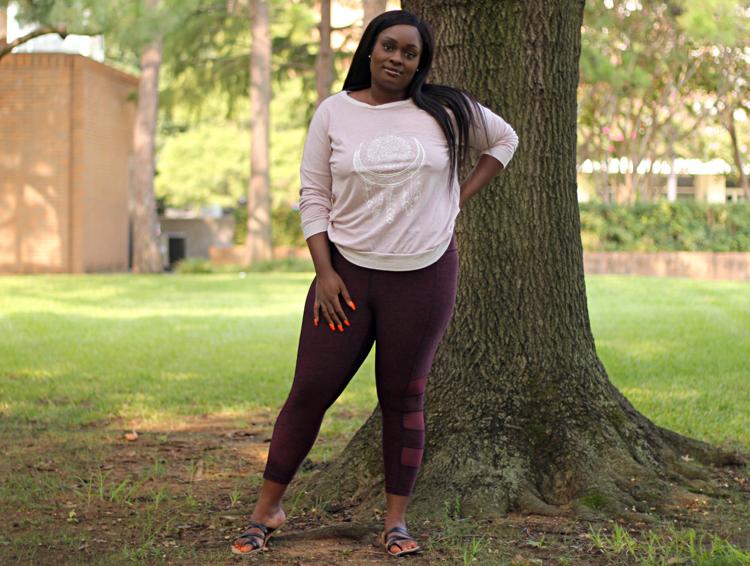 It is important to shop out of season, because high demand for styles in season comes with inflated prices, Anasia Daily said. She's learned to love thrift stores, because she finds quality pieces for great prices.
"Always, always, always shop out of season. Buy pieces for the fall during the spring or summer," she said. "You can catch a lot deals and save your coins."
Lewis said she also shops for her fall items in the summertime.
"You can always get affordable fashion," Lewis said. "I shop out of season and on sale."
Sixty-five to 70 percent of the clothes in her closet are from thrift stores, Toomer said.
"It's the best place to get something nobody else has," she said.
She said the best way to thrift shop efficiently is to go in with an open mind and the clothes will find shoppers.
Colors
Pastels and florals are patterns seen periodically over summer lingering into fall. So much so, Anasia Daily said she's had enough.
"The embroidered flowers on everything, it's getting a little annoying," she said. "Flowers are being stitched on every piece of cloth that I see in the mall."
Anasia Daily said her style differs from most, because she doesn't conform to the usual trends seen on the runways and develops her own unique approach.
"You can tell how I'm feeling based off what I'm wearing," Anasia Daily said. "Fashion is everything to me."
Velvet is one "super trendy" thing she hopes to see in the fall, she said.
Lewis said she would rather wear flamboyant colors in her blouses with a pair of printed slacks to accentuate her style.
With UTA's colors being orange and blue, she said she finds it easy to wear the bright colors she desires while not feeling like a sore thumb.
Vintage clothing brands with bright stitching are on their way toward a comeback, Toomer said. The early 2000s were a key time for relaxed high fashion and out-of-date styles need revival, she said.
Influences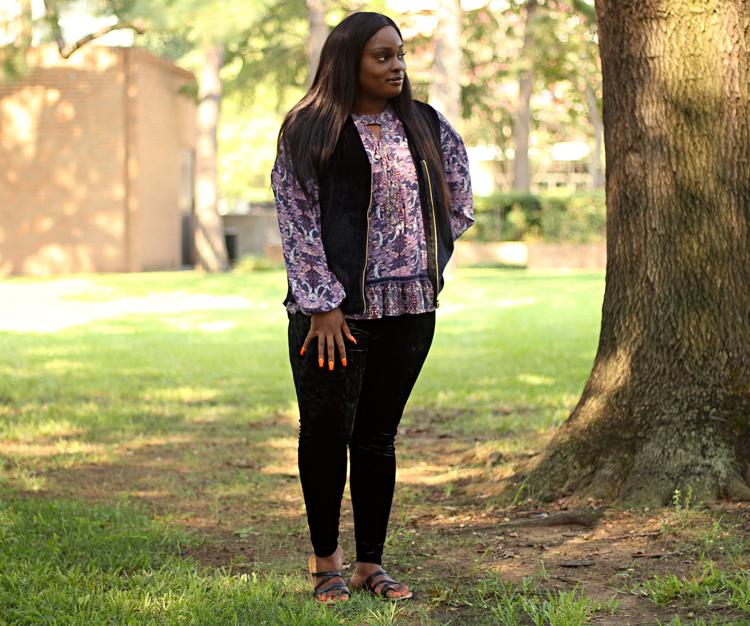 Lewis said her fashion sense has been influenced by Korean culture, which she studies, with floral and bright mismatching ensembles being her favorite.
"I step outside of the box and create my own rules when it comes to my wardrobe," Anasia Daily said. "I wear things out of the ordinary."
Both Anasia Daily and Toomer referenced celebrity singer and trendsetter Rihanna when asked who they look to most recently for fashion inspiration.
"Right now, everyone is trying to pull off the Rihanna look from the 'Wild Thoughts' video. Everybody is rocking that scarf with shades. It's simple and chic, and I love it," Anasia Daily said.
Toomer labeled the singer an icon and innovator. She said she also credits her high fashion expertise to Gabrielle Bonheur "Coco" Chanel, because she's iconic with her innovative method of designing male ensembles to be fitted for and worn by women.
She said equality in fashion is an important factor. A mix of roots and cultural upbringing also helped solidify her sense of style, she said.
"To me, it's an art form, it's a way you can be a different person," she said. "It truly is art."
@DemetriaLesterC