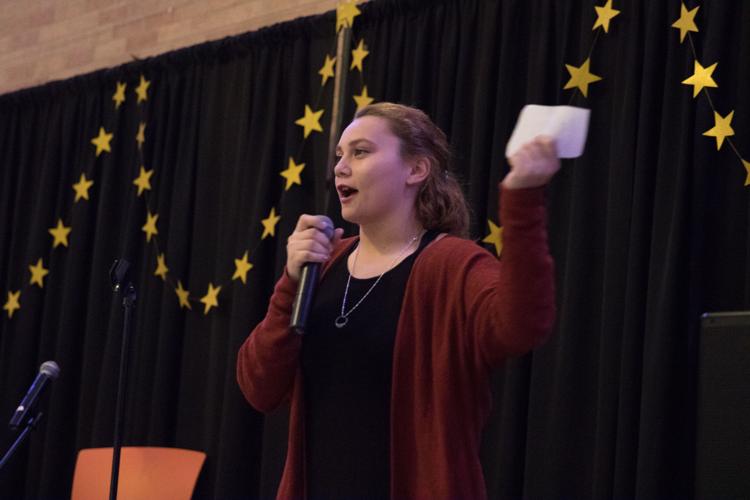 Comedians, poets and musicians took the stage during EXCEL Campus Activities' Spotlight Series Open Mic Night event Wednesday inside the University Center Palo Duro Lounge.
Everyone from first-time performers to seasoned local acts felt a bit of nerves taking the stage at the coffeehouse-themed event.
This was the second part of the series started in February by EXCEL. The event was inspired by coffeehouse-style shows that often feature smaller acoustic or spoken word acts.
EXCEL programming director Vannia Atao writes poetry and wanted an outlet for students with similar talents to share. The first event drew out about 100 people, Atao said.
Here are some of the highlights from the night:
Down to Business
Gregory Madkins, aka Gregory Stakks, helped kick off the evening with an energetic performance of his song "All In They Face." The local rapper and alumnus has been rapping for about seven years and frequently takes the stage at local venues in Austin, Houston and Dallas.
The audience at the open mic event was not Stakks' usual crowd, which brought on just a small amount of nerves, he said.
Stakks graduated from UTA last year with a degree in business administration.
"I found out that working really wasn't for me," Stakks said. However, he still thinks of himself as a businessman, only instead of a suit and tie, he sports a cap and chain with hopes of creating a business out of himself and his merch.
Want to see more of Gregory? Check out his YouTube channel here. 
Okay, Google
With the help of some faux candle light and iced coffee, a more intimate mood was created as the night moved forward.
Computer engineering sophomore Lydia Sarver piqued the attention of the crowd with her poem "Okay, Google," which was written in response to being sexually assaulted her freshman year of college.
"It's kind of about definitions based on how Google dictionary defines words, based on how my mind started defining words," Sarver said.
Sarver's first performance did not fail to draw applause from the crowd.
"Okay, Google — use 'contact' in a sentence.
"His hands came in contact with her body," Sarver said onstage.
Don't Mess With Texas
Allison Fenske, Architecture sophomore and California native,  did not receive the laughs she was looking for during her stand-up comedy routine after a joke about Texas.
"Maybe I won't do jokes about Texas," Fenske said about possible future routines.
Fenske, who watches a lot of comedy routines, was inspired to sign up because of the laughs she gets out of her friends whenever she tells jokes, she said. This marked her first performance in front of an audience.
Her skit contained material from her time on her high school football team, the Transportation Security Administration line and some relatable academic fails.
Here are some more performances from the night:
The next Spotlight Series Open Mic Night event will happen April 17 in the Palo Duro Lounge. The last event of the series will feature a professional spoken word artist, Atao said.
Students interested in signing up for a slot in the event can sign up here.
@edmedeles