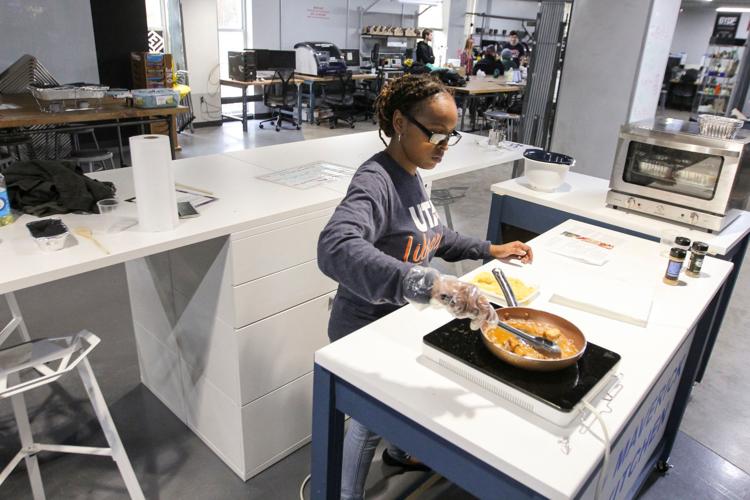 When coming up with an interactive learning environment, it can be hard to think of creative ways to get students involved. Milaun Murry, experiential learning outreach and events specialist, thinks outside of the box when creating pop-up programs that engage students in activities and help them learn while doing so.
This year the library's experiential learning program has launched several initiatives. Examples include Maverick Kitchen, where students are given the chance to cook meals that were purchased on a $20 budget, and Level Up, a gaming space located in the Central Library basement.
Instead of giving up after not being able to find a viable space for Maverick Kitchen, Murry solved the issue by building a mobile kitchen. She is known as a hard worker who is always willing to find a solution to any problem.
Gretchen Trkay, the departmental head for experiential learning and undergraduate success, said the department was intended to provide students the opportunity to create and to reflect on the things that they're learning and how they're applied.
Trkay said the programs are designed to help students develop transferable skills and to be more successful in their courses and, eventually, post graduation.
The library started pop-up programming in August of 2017, and once it grew and became more successful they brought Murry on board to entirely focus on pop-up programming, Trkay said.
Murry is no beginner to event planning. She started while she was an undergraduate.
She worked at a radio station in Chicago and did community outreach, planning concerts and many other events.
She then transferred to UTA while serving in the military. Murry said when she transferred, she felt a larger sense of community here and was hired as a Pride Peer leader for the LGBTQA Program.
Eventually as the program grew, Murry became the first social chair for the program when they had paid positions available. She recalls organizing the first drag show on campus, which is now an annual event.
"That was actually a very interesting process because there were a lot of people who were actually against us having the drag show here on campus," Murry said.
During that time, Murry said, one of the Greek houses threw a mock drag show that was demeaning, so it was hard for the LGBTQA Program to bring the show to campus.
After graduating with a bachelor's degree in history, Murry decided to work for her family's business in logistics.
She also worked as a history teacher for an early college high school but wanted to get as much experience planning events as possible.
Information systems junior Sara Maharjan has been working with Murry in the library since mid-February and helps her out with most of the projects.
Maharjan was originally just looking for an on-campus job. But she feels lucky because working with Murry has helped her as a self-described introvert to step out of her comfort zone. Murry involves Maharjan in planning and lets her lead events.
Murry encourages Maharjan to provide her input no matter how crazy she thinks it might sound. As a boss, Murry said she never wants to stifle the creativity of those working with her or those participating in the events hosted by the program.
Maharjan said that she views Murry more as a mentor rather than a boss because she feels included in the planning of different events, and Murry's approach to managing is more inclusive and more approachable.
"Before she hired us, she was working on everything by herself," Maharjan said. "So, she has honestly taught me that, if you set your mind to it, you can do it."
@ZariaMTurner