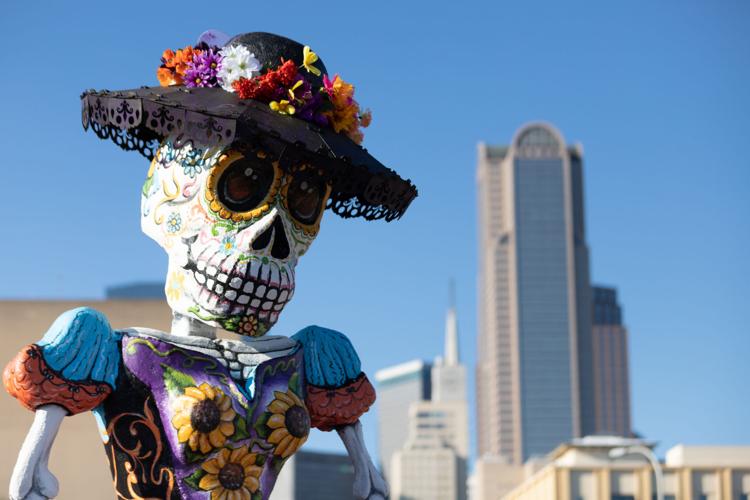 The Mexican holiday Día de los Muertos is mainly celebrated in central and southern Mexico because of its deep indigenous roots but has recently become more recognized in the United States.
Día de los Muertos, also known as the Day of the Dead, is celebrated from Oct. 31 to Nov. 2 as a way to honor deceased family members.
Dallas hosted its first Día de los Muertos parade and festival Saturday, with the intent to remain authentic to Mexican tradition.
Recent films like The Curse of La Llorona (2019) and Coco (2017) also lend a spotlight to Mexican traditions, folklore and culture, said anthropology assistant professor Isabel Montemayor.
What began as silver mine snack food has come a long way since its inception, changing and evolving with each culture that takes it in.
Although cultural awareness is usually a good thing because it educates different communities, Montemayor said the current attention on Día de los Muertos has become somewhat a matter of cultural appropriation. People seem to think that the holiday is a part of Halloween, simply a time to get dressed up and have a night of scares and fun.
"It's become kind of mainstream and popularized because it's very marketable around Halloween," she said. "But Halloween is a very separate and very different kind of holiday, and Día de los Muertos is tied very specifically to the Judeo-Christian Catholic calendar."
Enrique Gonzalez, structural engineering graduate student, said that while growing up in the town of Zapotlanejo in Mexico, Día de los Muertos was a very solemn yet celebratory tradition for his family.
The celebration began as a regular school day, and students would create ofrendas, which are altars decorated with pictures of the dead — not to worship but to honor them. Then, they decorated the classrooms with the ofrendas and ate sugar skull candy.
After school at around 5 p.m., families headed to the cemetery and cleaned their family members' graves before having Mass. Families and community members would eat dinner together and tell stories about the dead to remember them.
Gonzalez said his favorite Día de los Muertos tradition is eating pan de muertos, a tasteless bread covered in sugar. Mexican families bake it only for that day, and it makes him feel nostalgic, he said.
Now that he lives in the U.S., it's harder to celebrate the holiday and remain true to its cultural significance, Gonzalez said, but he still goes to Mass to pray for the dead, particularly his deceased grandparents, aunts and uncles.
Back home, Zapotlanejo is now known for attracting tourists to its less traditional, weeklong Día de los Muertos festivities. In 2016, an estimated 100,000 tourists visited the town to partake in the celebrations and see its then record-breaking 20-meter-high Catrina (a painted skeleton dressed in colorful women's clothing) and 10-meter-high ofrenda. Last year, the Catrina stood 30 meters high and attracted even more tourists.
Gonzalez said although he's glad the tourism generates money for his hometown, he realizes that such publicity detracts from the holiday's authenticity. It's become a tourist trap.
"The part that I see dying a little bit is the religious part," he said.
As a child, he saw the holiday as a religious, family holiday. Now that he's in the U.S., and even back home in Mexico, it's becoming "more like a party."
Montemayor said for Mexican Catholics, Día de los Muertos (the Mexican holiday) and All Souls Day (the Catholic observance) are the same thing. The tie between the two holidays began as a fusion of cultures and religions.
The two cultures combined religious practices mainly for the Christian conversion of the indigenous people of Mexico, Montemayor said.
"In anthropology, we call it religious syncretism," she said. "It's basically the cultural traditions of the indigenous people of southern Mexico and the Judeo-Christian traditions that were brought over by Europeans, specifically the Spanish, when they came over to the New World."
Historically, many indigenous cultures held a very specific view of death, she said. They didn't see death as a scary process. They saw it simply as the next step in the life cycle and embraced it. They celebrated death.
During their celebrations, indigenous cultures believed the souls of the departed actually came back to life in cemeteries and homes, Montemayor said. They would practice different traditions such as lining their homes with some of the departed souls' favorite items in an attempt to lead them home.
Once Catholicism came to Mexico, many of the traditions remained the same, but with more of an emphasis on honoring and praying for the dead. Indigenous cultures celebrated the dead at about the same time of year that Catholics commemorate the dead with All Saints' Day and All Souls' Day on Nov. 1 and Nov. 2, Montemayor said.
The traditions merged and incorporated a Catholic Mass to pray for departed souls, while the emphasis focused more on a religious observance than a pagan ritual, she said. The Catholic Spaniards incorporated their own symbols like candles, incense and rosaries (religious beads used for counting prayers).
Andrea Ramirez, advertising and broadcasting senior, said she didn't understand the religious significance of Día de los Muertos until she was a teenager. As a child, she thought it was the same as Halloween and didn't realize haunted houses have no place in Día de los Muertos, she said.
Eventually, her mother explained the significance of honoring the dead. Each year, her family lights candles by a portrait of Our Lady of Guadalupe, the patroness of Mexico, and prays for the deceased.
Her family would pray specifically for her grandfather and uncle. Although she never met them, she said she feels closer to them because of Día de los Muertos and commemorating them every year.
Last year, Ramirez's family began celebrating Día de los Muertos with the local community at their family convenience store, Chilangolandia, in Forney, Texas. While selling Mexican candy and snacks, the family places an ofrenda in the back of the store, which they invite customers to add to with pictures of their loved ones.
Montemayor said including other communities in the holiday brings attention to Mexican culture and is an important step in education and inclusion, but people must take care to not confuse traditional Mexican culture with current American culture.
"It brings about a certain level of cultural awareness, but I don't think that the majority of people who see representations of Día de los Muertos understand its cultural, symbolic and religious significance," she said.
It's a matter of mindfulness, she said. People must educate themselves on the Day of the Dead before the holiday's meaning becomes dead in translation.
@CecilLenzen