Even half an hour before the curtain was set to rise, several rows of students could be seen sitting in the cushioned seats of the Rosebud Theatre, patiently waiting for Wednesday's performance of Valentina to begin.
The show was performed by Ballet Nepantla, a New York traveling ballet company that uses their dancing as stories to "provoke the imagination of audiences and help our society see the beauty of our community," according to the night's program.
The Valentina performance specifically showcased the strengths and resilience of women during the time of the Revolutionary War in Mexico. 
Bringing the Ballet Nepantla to perform at UTA was a process that had been in the works since summer of last year, said Christian Zlolniski, Center for Mexican American Studies director, at the performance's welcoming speech.
When medical technology junior Jennifer Ortega saw the Valentina performance listed online, she said she felt like it was something she could relate to in terms of background.
"I was like, 'Okay, this is based on my heritage, this would be cool to see,'" Ortega said. "It's a win-win. I'll be doing something for my class but also be doing something for me, to find something that interests me."
Ortega said that history wasn't her strong suit, so she hopes to use the Valentina performance as a chance to learn something about her culture.
Accounting freshman Brenda Galvan said she came to the performance to get service hours for a group she's involved in called LASO, UTA's Latin American Student Organization.
"They told us that it would be cool if we came because it was part of Hispanic Heritage Month," Galvan said. "They told us it would be a fun experience to come and watch."
Like Ortega, Galvan said she isn't very familiar with the Mexican Revolution but feels like she should be, so she came partly to learn.
Another topic Ortega said she was interested to see in the performance was the role of women in the war. 
Throughout the performance the dancing women were seen in various costumes, beginning the war in beautiful, sophisticated gowns and ending in comfortable floral skirts and red uniform blouses, with prop guns and sombreros around their backs.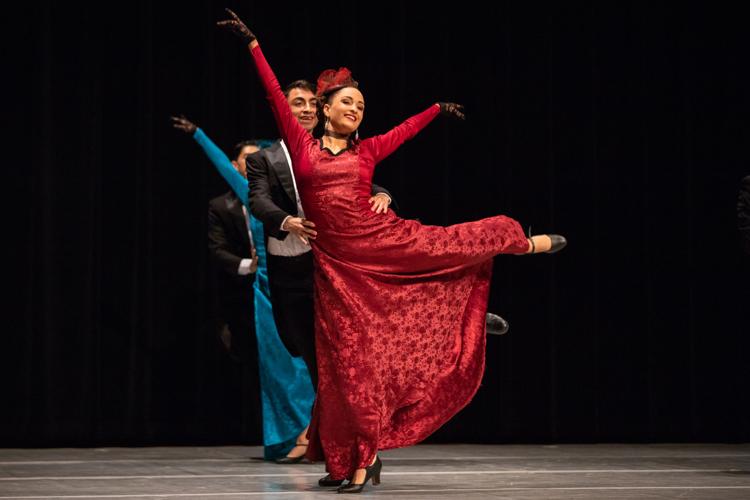 Valentina tells the story of those women, called adelitas, who fought in the Mexican Revolution and eventually became an integral part of the battle effort.
"I don't know if it's normal in other heritages or cultures as well, but women weren't seen as people who were allowed to fight for what they want," Ortega said.
Ortega said that women at the time of the Mexican Revolution really didn't have a voice, so she liked the fact that it was being acknowledged and portrayed in Valentina.
"It's not something that a lot of people see in Hispanic heritage," Ortega said. "Even though it's 2019, 21st century, there's still a lot of women who are being held back for being women, especially in the Hispanic culture."
History assistant professor Paul Conrad also said he looked forward to seeing the cultural aspects of the performance, as well as the dancing.
"The Ballet Nepantla is a really well-known and well-respected organization," Conrad said. "It's a great opportunity here in North Texas to see this kind of quality dance performance brought to our own campus."
Conrad said he had friends who helped organize the event, so he knew how many months of effort went in to making the performance possible. 
The prestige of the performers and the cultural aspects of the show even attracted viewers from outside of Arlington. 
Spanish graduate student Darian Corona works for Joshua High School in Joshua, Texas, and brought a group of her students to see Valentina.
Corona said the students she brought were all relatively new to English, so some were excited just to see a Spanish performance. She wanted to give them a cultural experience they wouldn't normally have access to.
"I was going to come on my own, and I figured, why not open up the opportunity to my students?" she said. "So not only did I get to be impacted by the ballet, but I got to see how they were impacted. And it was incredible."
Zlolniski said the show was one of many that CMAS hosts where guests talk about issues that are relevant to the Latino community, the goal of which is to address the diverse and cultural ways that Latino artists convey culture.
The Valentina performance merged Mexican Folklorico and contemporary dance, Zlolniski said. 
"Together, they envision a new form of expression that fuses these two modalities to create a new aesthetic that speaks to the historical, cultural and social realities of what it means to be Mexican," he said.
@Sam_Knowles00