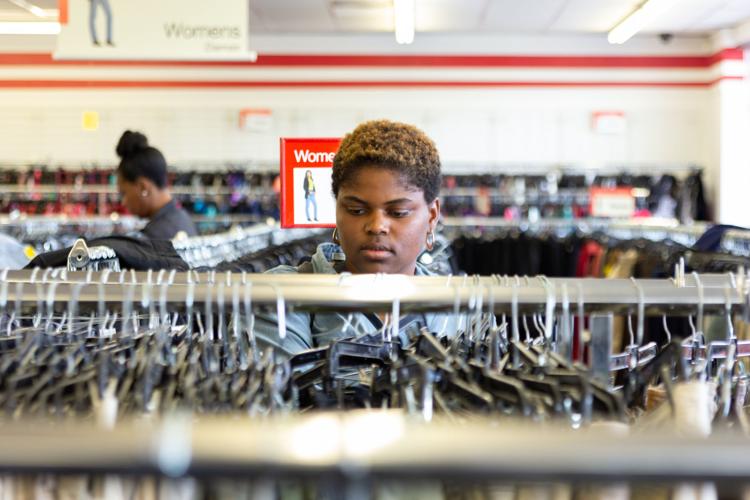 Kirsten Manns has not worn the same outfit twice in two years.
Manns said she began shopping at thrift stores, "thrifting," because she and her family would donate clothes to a local family center in Hempstead, Texas.
When she was growing up, she and her mother would visit the center weekly and shop for donated secondhand clothing.
Although the exercise science alumna grew up thrifting, she said she didn't really appreciate it until she got to high school.
Once she got to college, thrifting became an invaluable source of fashion for a minimal cost. She leaves thrift stores laden with new clothing that could cost up to hundreds of dollars at a department store. However, she said she rarely pays more than $25.
Throughout college, Manns shopped primarily at thrift stores and never lacked a fresh, new fit.
Broadcast communication junior Justin Hidalgo said his first impression of Manns was how well she dressed.
"She just had a really unique style," he said. "I could tell that right off the bat, she was a thrifter."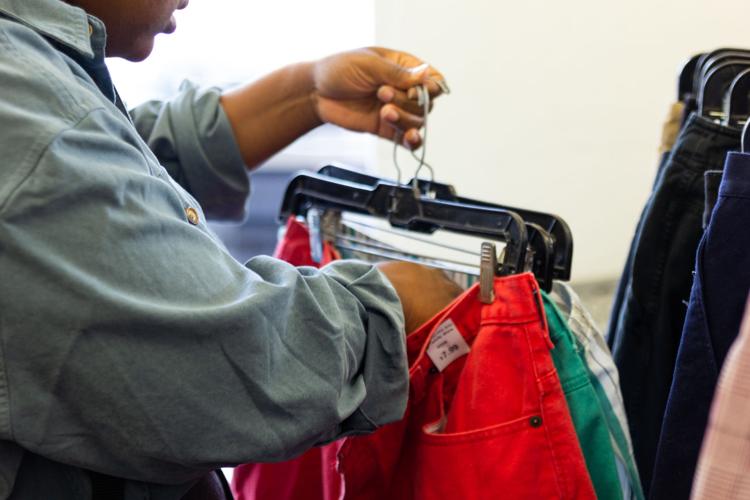 A thrifter's style is composed of various clothing from different brands that bring together pieces to create a new look.
As someone who has also shopped almost exclusively at thrift stores for the last two years, Hidalgo said he enjoys hunting through thrift stores for unique pieces that will make a "statement."
"Trying to save a couple bucks and still look somewhat stylish without breaking the bank, I think, is really important to me," he said.
Shopping at thrift stores gives people like Manns a versatile wardrobe, Hidalgo said. Whether she's headed to a brunch date, work meeting or a nighttime get-together with friends, Manns has something to fit the occasion while standing out from the rest of the crowd. By combining something surprising, like a pair of colorful high heels with bell-bottom shorts, Manns manages to spice up her outfits.
"I never know what she's going to wear," Hidalgo said. "She always manages to shock me and surprise me."
Manns said cheap yet fashionable thrift store finds have filled her closet to its capacity. Her wardrobe is a rotation of bringing in new thrifted clothing while donating old pieces back to thrift stores.
Although she occasionally does find "name brand" pieces like Prada, Manns said she focuses more on the aesthetic of her clothing rather than what company made it.
Business graduate student Razeena Moosa said she and Manns are similar in that they're both fashionistas. However, Manns is unique because of her thrifting.
It's an outlet for creativity, Moosa said, and Manns never lacks in that department.
"It's like modern, but 19'-something-something," Moosa said. "She was not supposed to be born in this era."
Thrifting gives Manns a unique opportunity to play with patterns, colors and styles in her wardrobe, Moosa said. Mixing and matching pieces, Manns is able to pull off bold, adventurous outfits.
"If it's questionable, she's definitely going to wear it," she said.
From distressed, high-waisted jeans to flamboyantly colored collars or sweaters, Manns said she has a piece to pair with any mood or for any occasion.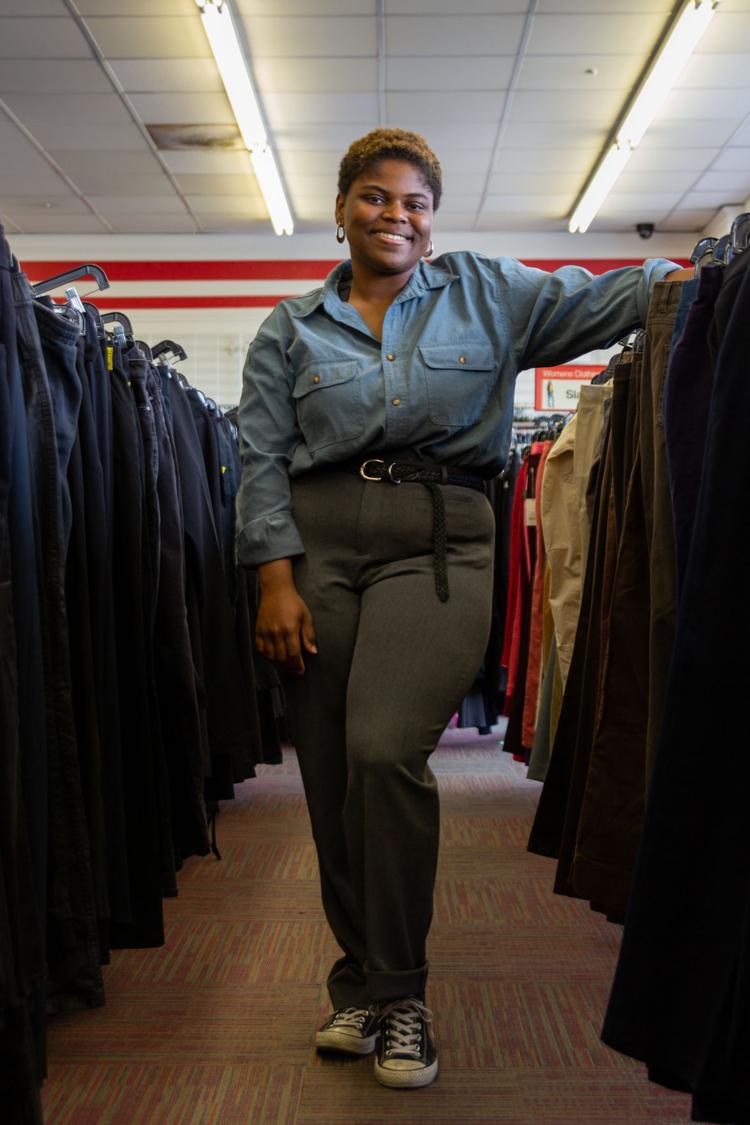 Thrifting with Manns is like an adventure, psychology senior Ke'Osha Williams said.
"She just goes with the flow and follows where her creative mind tells her," she said.
It's important to have a visual goal, Manns said. Even if you don't go with a specific plan on what type of clothing piece you want to buy, keep an open mind. If you find something cute or unique, imagine what else you can pair it with to create a bold, edgy look.
For example, she said she'll combine a pair of distressed "mom jeans" with a flowy green, half-buttoned collared shirt half-tucked under the belt.
Williams said it's that open-mindedness that consistently gives Manns that "wow" factor. She finds a way to make any piece work for her.
Manns said she's always been interested in fashion, but the convenience and inexpensiveness of thrifting allowed her to unleash the more daring side of her style. If she found a piece that didn't end up working with her wardrobe, it wasn't a big deal because she only spent a couple dollars on it.
"[Thrifting] always provided me with something new and different and fresh," she said. "I loved it."
@CecilLenzen