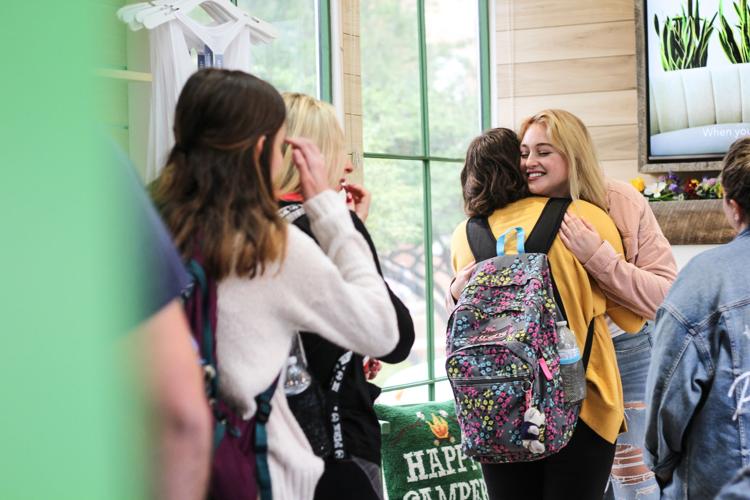 When Eloisa Sanchez looks back at childhood pictures, she realizes she was never smiling or laughing in them. She wasn't a happy kid, she said.
The body positivity movement has changed that for the biochemistry junior. She's happy now.
Sanchez stood in line outside of the Central Library on Wednesday to meet Iskra Lawrence, body positivity advocate and model. She was on campus as part of the #AerieREAL Pop-Up Tour, a pop-up shop meant not only to sell Aerie merchandise but also bring body positivity to different campuses, said Lindsey Ledbetter, Dallas operations manager of American Eagle and Aerie.
#AerieREAL is a movement the Aerie brand created centered around body positivity, Ledbetter said. The brand commits to not retouching their models and displaying a wide array of body types.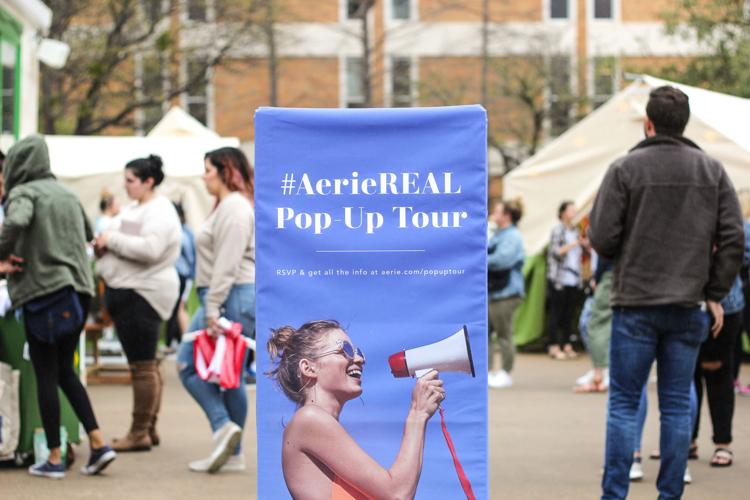 "Body positivity means that all bodies are positive, that we should all be proud of our bodies and that there's no specific guidelines or body to attain," said Hailey Jenkins, broadcast senior and Aerie brand ambassador.
Jenkins looked confident in a look she called "boy scout chic." She executed the look with a navy floppy hat, high-waisted khaki shorts, a fanny pack, a navy and white pinstripe shirt and a neon orange bralette that peeked through. But Jenkins said she wasn't always this confident.
"I always felt a little bit thicker. My dad would joke that I was big-boned," Jenkins said. "But then I began to feel proud of my body, and I know that my legs are strong."
As Jenkins celebrates her legs, Lawrence encourages women struggling with body image to pick something about their body that they love.
"If you're into playing golf, I'm grateful that my body enables me to do that," Lawrence said. "Or the fact that you like hugging your friends, or drawing or writing. Realizing that my body allows me to do that. That's a really great place to start."
Students walked in and out of lime green and beige tents that held swimsuit pieces, sweaters, "GRL PWR" dad hats and cat eye sunglasses. The tents were part of the event's camping theme. Some even served as makeshift dressing rooms.
The amount of time students spent at the pop-up shop varied, but Lawrence spent at least 3 to 5 minutes discussing everything from confidence, social media advice and where to get the best sushi in Austin.
19 year-old Cassie Hernandez soaked up her tears on the sleeve of her denim jacket as she spoke with the body positivity champion. The Carrollton resident journeyed across the Metroplex to meet Lawrence.
Lawrence was unhappy when she was a teenager because she felt like she had to change what she looked like to become a model.
She was often told she was too big to be a traditional model and too small to be a plus-sized model. She said she wants to debunk the idea that there's one way to be a model and one way to be a woman.
"Making that my mission to change that has given me purpose in life," Lawrence said.
Like Sanchez, Lawrence is happy now because of body positivity.
The pop-up shop runs through Thursday in front of the Central Library from 10 a.m. to 4 p.m. This is the first stop out of six the pop-up shop will make on college campuses throughout the country.
@arianamariel_