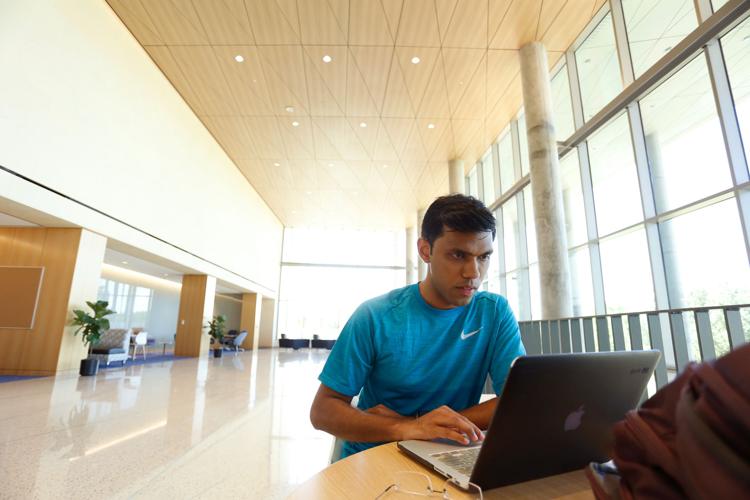 On UTA's large campus, there are plenty of locations well-suited to studying. The trick is to find one that fits the student.
Chemistry freshman Deeba Tabibi said her go-to study spot is inside the Science and Engineering Innovation and Research Building, directly in front of the coffee shop.
The windows let in a lot of sunlight, and she enjoys the clean, open space, she said. The building is calm and peaceful, offering a subtle white noise.
Tabibi started at UTA right about the time the SEIR Building opened, and she said she's glad the university made it a resource for students.
"I don't know where I'd study and stuff if I didn't have SEIR," she said.
Occasionally, she'll study at one of the on-campus Starbucks locations. After a successful study session, she'll treat herself to a caramel latte with soy milk.
Tabibi said she doesn't usually like to study outdoors; however, the weather does affect her productivity.
"When it's sunny outside, it makes me really want to study," she said. "I feel more concentrated and focused."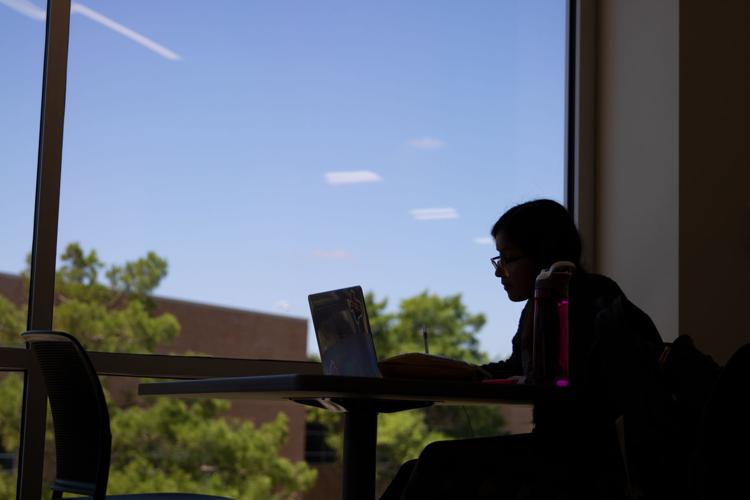 Madeleine Shelton, advertising and public relations junior, said she likes to study between classes in the Fine Arts Building.
She tries to find a table by the stairs on the second or third floor. While it's fairly quiet, the ongoing student traffic up and down the stairs provides gentle background noise.
"I like to have a little bit of noise when I study," Shelton said. "If it's completely silent, I start freaking out."
She said she also enjoys studying at the Commons on west campus. The new building is well-equipped with spacious desks and plenty of charging outlets, she said.
Electrical engineering junior Kolin Kilpatrick said he studies every day, about 10 hours per week.
When and where he studies depends on a variety of factors, but he said he has a number of locations on campus to study.
"It depends on how busy I am," Kilpatrick said. "Sometimes you gotta find a place by yourself."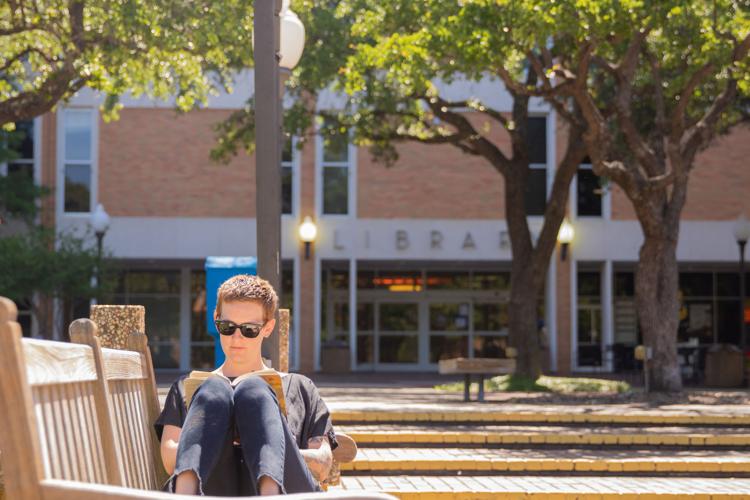 He said he likes to study alone next to the Planetarium, under an outdoor alcove. The space is shaded and protected from the rain and provides outlets and several picnic tables.
When the weather is "beautiful and sunny," he likes to study in the courtyard outside the Fine Arts Building.
While those are two of his favorite spots, he said it isn't hard to find somewhere to study just about anywhere on campus.
"It's a whole bunch of factors, but what truly decides [my study spot] is where I'm coming from and where I'm going," Kilpatrick said.
@CecilLenzen